My blog posts are usually about interiors, but these days I got into the mood for colder days, and I thought maybe I share the tips that help me welcome autumn. There is no doubt that the fall is here, and it's time to take out the blankets, candles, good books, and hot chocolate, and get ready for the long nights. I know that all the lifestyle websites and blogs are about this kind of tips; social media is full of fancy hygge pictures, with nice choco cups, holiday socks, crackling fireplaces, etc. But my list with the autumn tips is a more simple one, I would say even a minimalistic one, no hard time to get any of these things for a warmer mood. So let's take a closer look at what helps me to be ready for the cold season.
#1 Using the harvest as decoration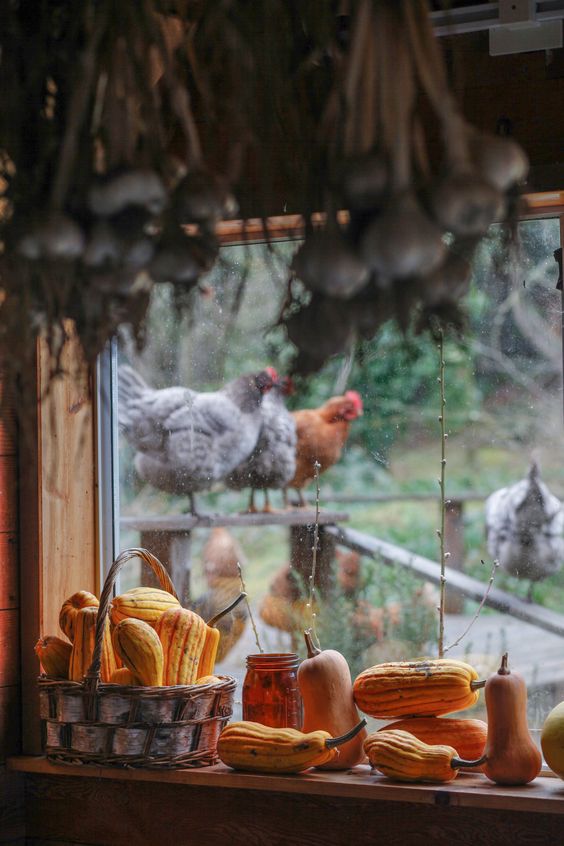 My parents and parents-in-law's garden is full of goodies, pumpkins in all shapes and colors, autumn flowers, dried flowers, fruits, corn, you name it. All these placed in the right corner and the right spot can create a magical mood for the fall. If you do not have a garden, just look around you, in the park, at the locale market, in the supermarkets you can find everywhere things that might be perfect for your home decoration.
#2 Filling up my tea supplies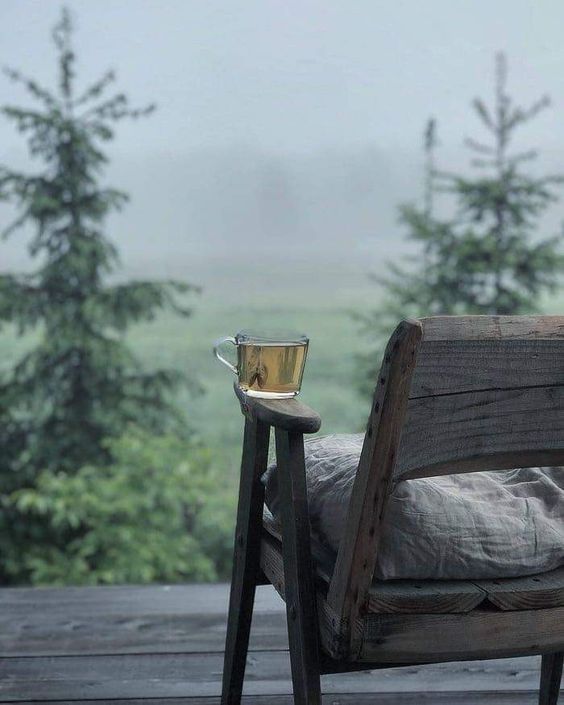 Before you think I'm a tea person, let's just be clear on the fact that I love my morning coffee. I drink one coffee, usually a latte macchiato, every morning, and I could not imagine the mornings without coffee. On the other hand, I prefer tea in the late afternoon or the evenings, I can go with almost any herbs, tastes, except instant tea, no offense, but I prefer boiling water and brewing dry leaves/flowers for my tea. My favorite tea is mint combined with green tea, but I always buy many other flavors too for having the luxury of choosing based on my mood.
#3 Preparing my favorite reading spot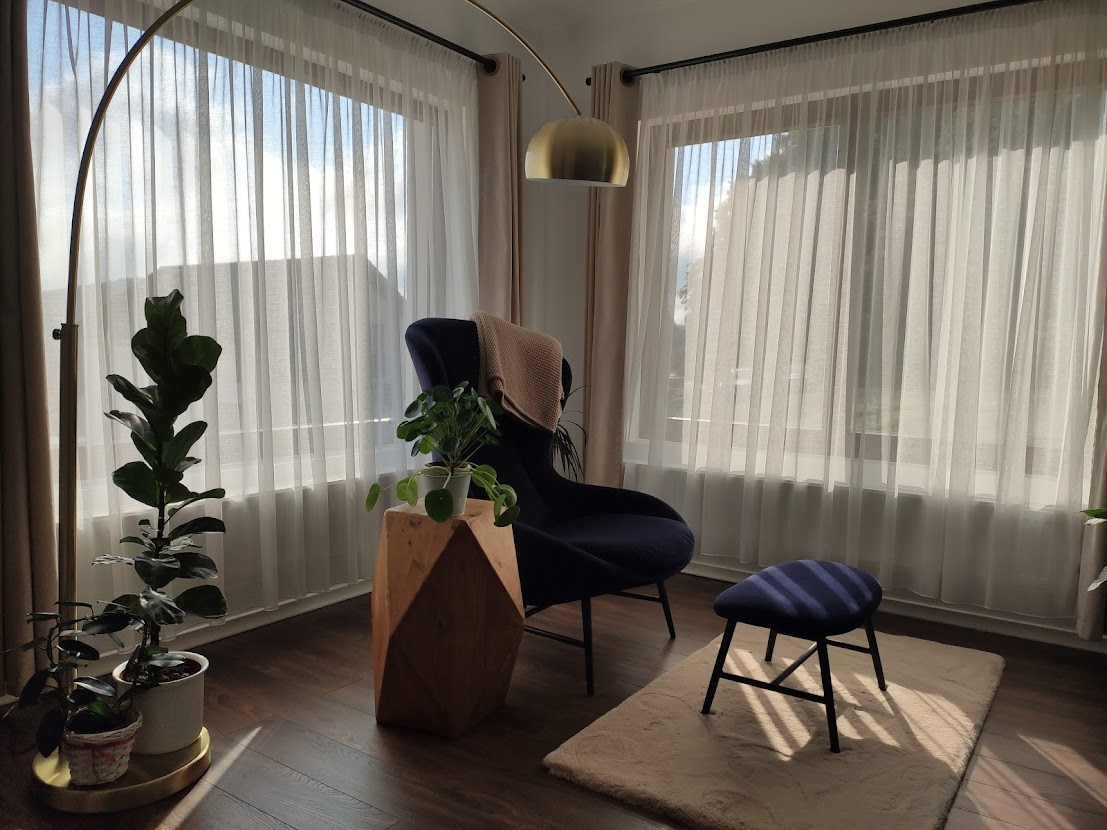 Having a nice, hygge spot where a little bit of sunshine still can snick in during the winter is essential. Choose a sofa, an armchair, a day bed, anything that can work as a relaxation spot. If you follow my social media, you already know that I have this reading corner with a comfortable armchair and a reading lamp, so this is the place where I curl up during the long nights.
# 4 Buying all kind of candles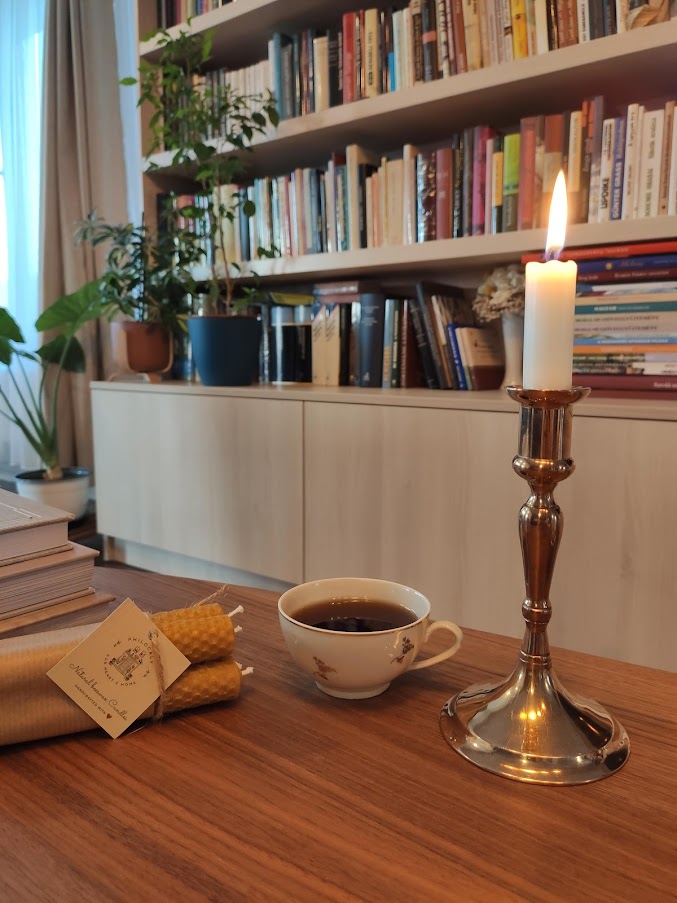 This is not a habit only for the cold season, I always buy candles, all shapes, and almost all scents, to turn our nights into a simply magic night. It doesn't cost you a fortune to get candles and light them up at night. It creates such a calm vibe, it smells good and it even gives a tiny bit of warmth. Actually, my husband loves it too, and believe if you check the dictionary for the definition of rationalism, his name will be next to it. The bee wax candles and the vintage candle holder (the small cup was a gift from them, thank you girl!) are from Philocaly.ro. Remember, you should not let any candle unattended while it's lighted up!
#5 Getting a warm blanket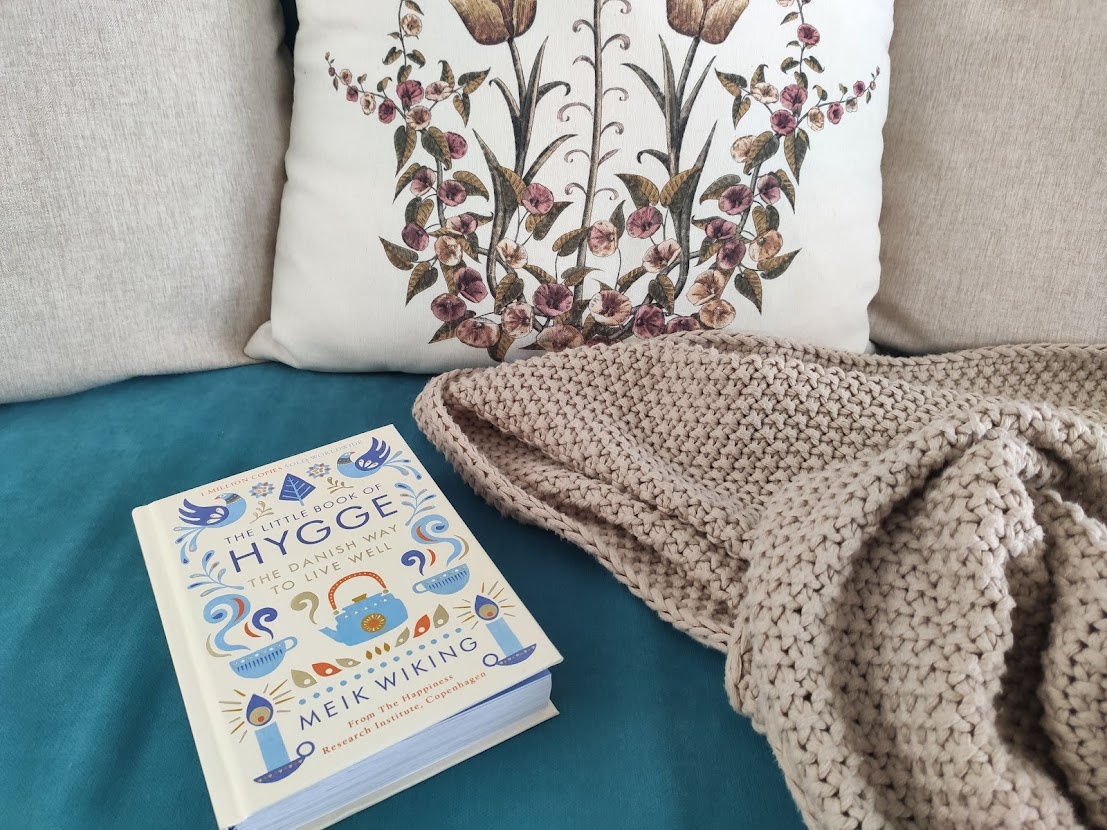 Last, but not least, a warm blanket never hurts while you are drinking your hot tea and absorbing the calmness of a candle. This one is from Zara Home, as the botanical pillow too. The Little Book of Hygge is a "nice to have" to make sure you know how to turn your home into a hygge interior, the book was purchased from the Book Express, a local business that I like a lot, keep doing what you are doing guys, you are great!
And before I leave, feel free to check out my Pinterest board called Country life, it's a feast for the eyes, and it's full of inspiration for simple living and getting into the mood of autumn. Stay tuned for the next blog post, as this weekend I'm going to share a nice Danish interior with a touch of colors.
Photo credits: 1. Cob Cottage Craft, 2. More Fun with Juan, 3., 4. & 5. focalpoint.ro; cover photo by John Price on Unsplash