Finally, the long weekend is here. I was looking forward to it as in my country, Good Friday and the 1st Day of Easter (Monday) are public holidays. Yeah! I adore Christmas, but I prefer Easter over Xmas, holidays are nice, but somehow we've lost the essence (including me) of the beautiful December holiday by chasing gifts for the family and friends. Everything became so commercial. Easter is much simpler, eggs, bunnies, lamb roast, and that's about it 🙂
Regardless of the holiday type, it's important to get your home into the spirit of the holidays. Yes, I am the type who gets the Easter vibes by decorating our home with a lot of bunnies and eggs. To get you inspired, I collected a few Nordic decoration ideas, mostly simple DIY things, so you can create these if you get into the bunny mood. Let's take a closer look.
#1 Easter Paper eggs
These paper eggs are simple and stylish almost everywhere in the house. You can find a tutorial on how to do this here or buy them from H&M Home 😉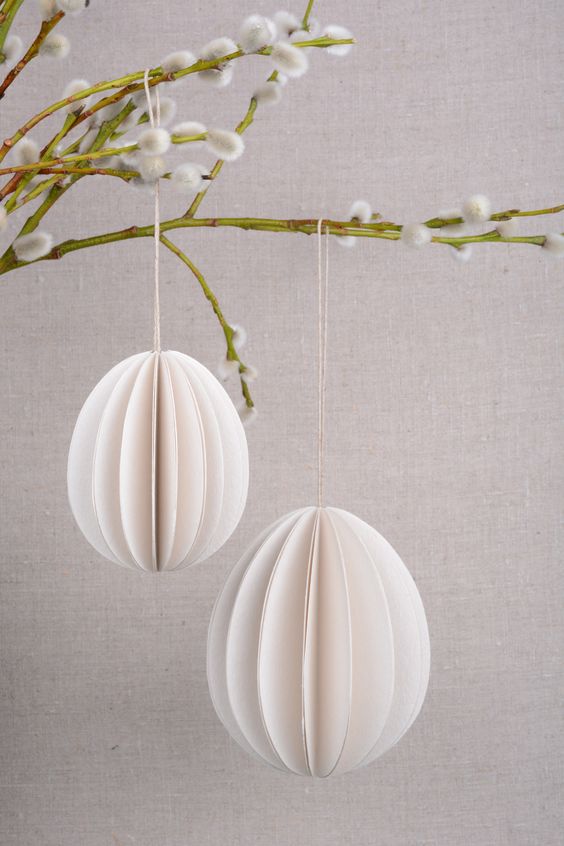 #2 Egg candles
I love these candles for their minimalistic shape. There are many colors on the market, but I prefer pastel colors or white. If you live in Romania, you can buy these from here or from DM (physical shops, not online).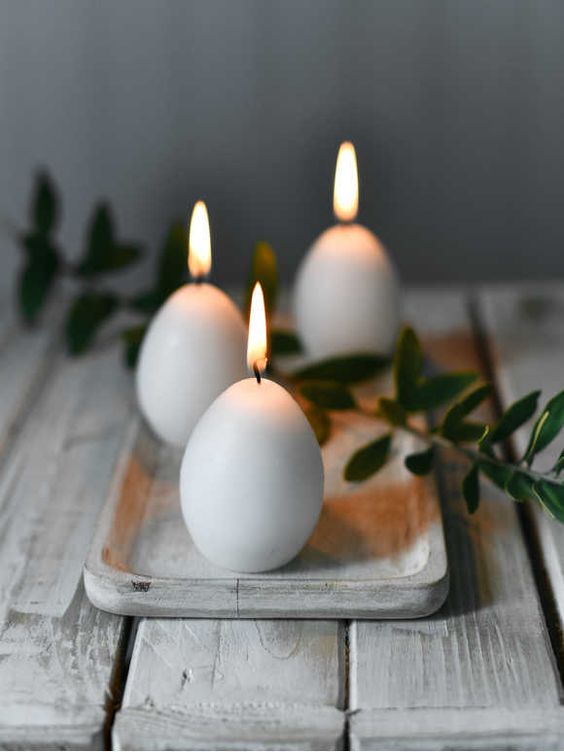 #3 Golden eggs and hand-made candles
This is a bit tricky, but not impossible to do it. It's hard to find in my region this type of ultra-white egg, not sure why. But if you manage to find some, paint these in golden color and place them in a glass jar to let the color shine. The scented soy candles with natural Baltic amber stones can be found on Etsy.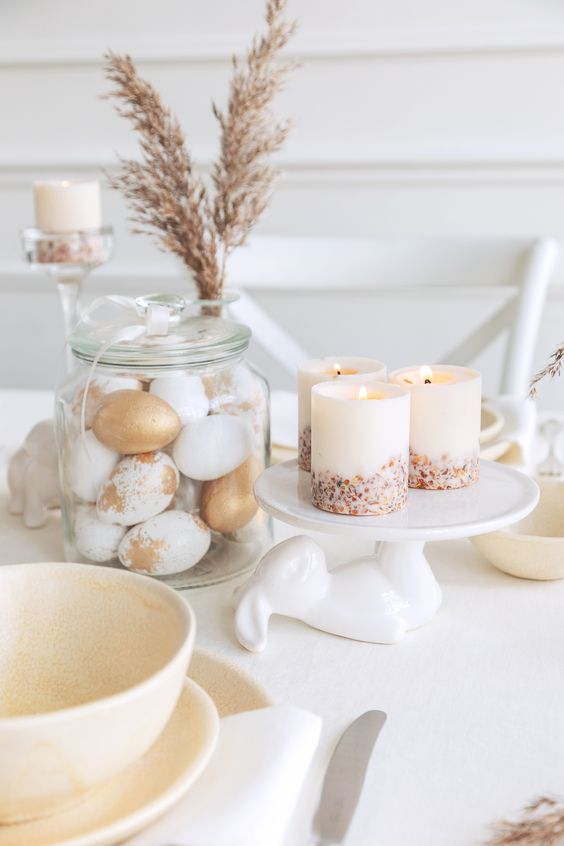 #4 Mix and match different eggs
Buy all kinds of eggs, different colors, and sizes, and place them in a glass jar to boost the effect. You can paint them or let in their natural colors, either way, they will look gorgeous on the Easter festive table.
#5 Splodge patterns with black ink
This seems a bold idea, but I like it a lot. The same story, buy ultra-white eggs and use black ink to paint them. Try using a brush to get those stains effect.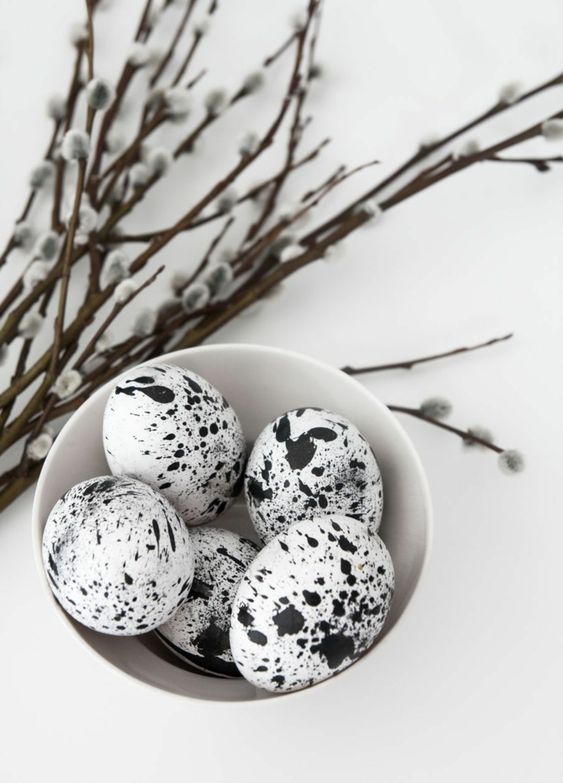 #6 Wall or door wreath
This will require more creativity, but it's not a complicated thing to do it. Buy wooden beads, black paper for the bunny, 2 wooden clothespins, and some greenery. You can hang it on your door or in the house almost anywhere, for sure it will look super nice.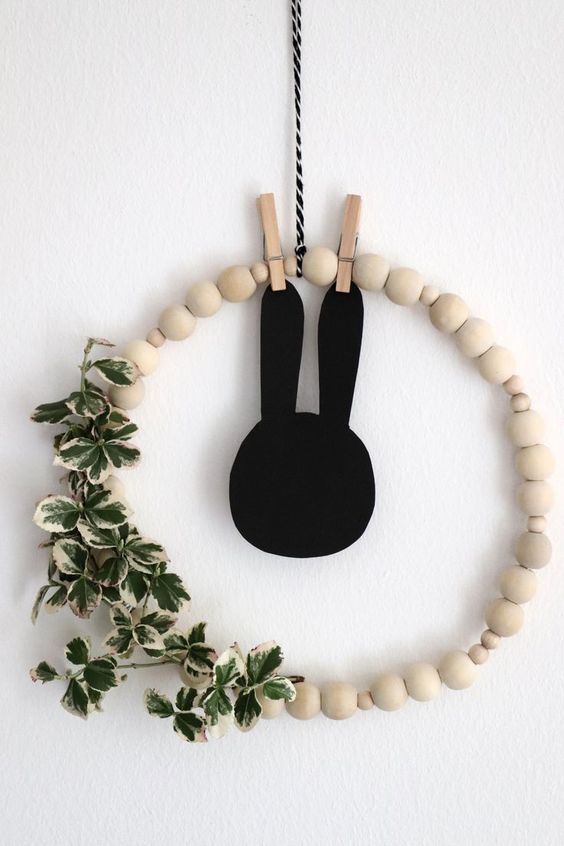 #7 Black&white patterns with marker
This is such a simple idea, just take a black marker (preferable a water-resistant or permanent one) and some white eggs, and do some minimalistic patterns, like dots, lines, or points. When all these eggs get together, they will look so funny and minimalistic.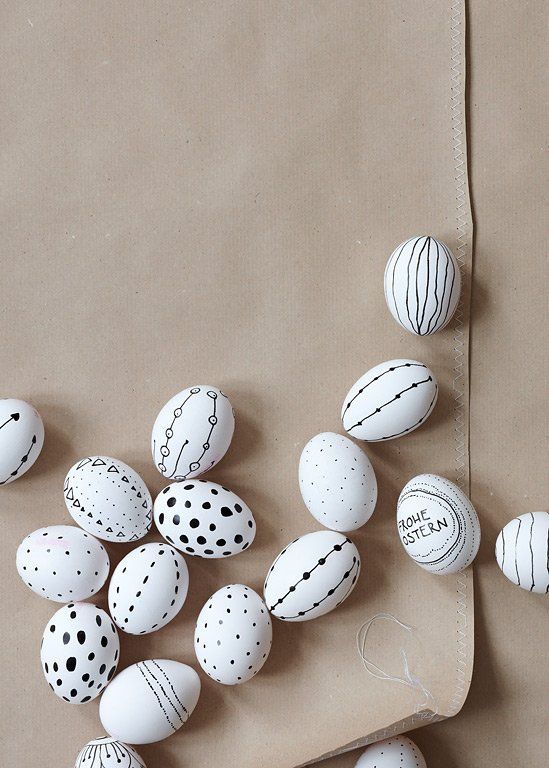 #8 Spring flowers in a glass pot
Last but not least, this is one of my decorations from last year 🙂 I got it as a present, and I was very pleased with it. Take a closer look to see that in the pot there is moss and the spring flowers are planted in this. It is a nice, natural way of bringing Spring into your home. You need 3 things: glass pot, moss, and flower bulbs. I love it for its transparency.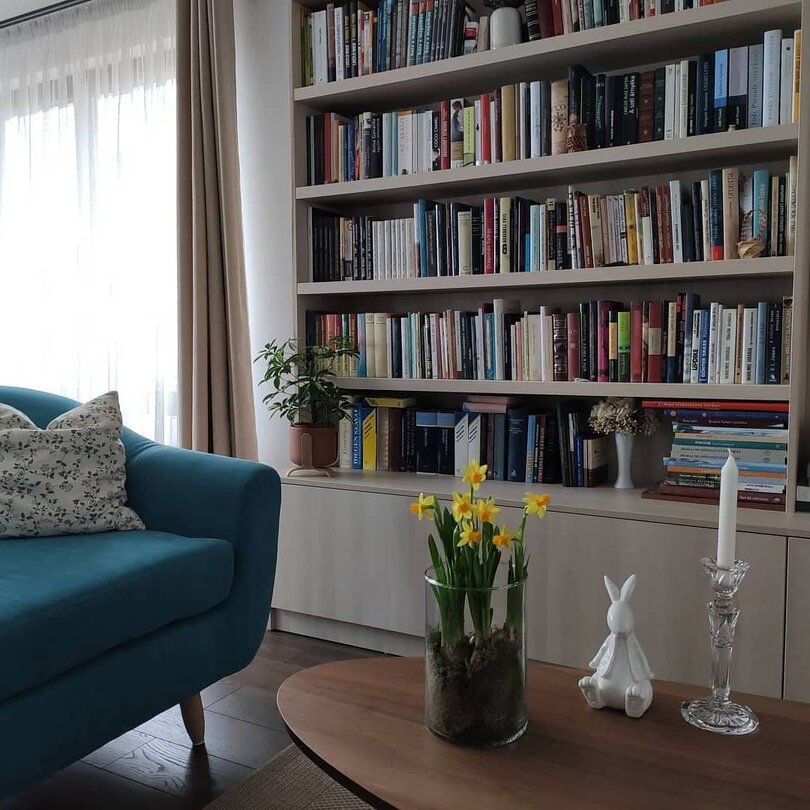 That's it from me for this week. Feel free to come back next week when I'll share another hygge Nordic interior.
For those who are celebrating Easter, I wish you Happy Easter Holidays!
Photo credits: #1. thegentlejournal.com, #2. nordichouse.co.uk, #3. Etsy.com, #4. ladydecluttered.com, #5. archzine.net, #6. lavendelblog.de, #7. blog.drummondhouseplans.com, #8. focalpoint.ro IG