Sometimes I have the feeling that beautiful stories find me without me doing any effort. As you know, the majority of the interiors shared on my blog are the homes of some nice people who I don't know personally, but who are more than kind to let me showing around their interiors. This is the case also with Hannah, and her story has touched me deeply when I was doing my research on her blog. It takes a great courage to talk to the world about your infertility struggling and adoption of a child. If you have time, pour yourself a cup of coffee and read their beautiful story about how they became a family with their daughter, Collette. Such a nice story of people with pure souls.
And now, let's take a look inside Hannah's home with super relaxed vibes, neutral colors, and lots of textures. No wonder why this home triggered my attention, as her style is a combination of many things I love, Scandinavian style with the Mediterranean and French countryside touches. Their inner pureness is reflected all over the place. Hannah is living in northern Alabama with her husband, Josh, and their daughter, Coco. They renovated the house where Josh grew up, turning it into a modern, relaxed interior.
Their home is full of natural decorations, neutral colors, rattan baskets, and greenery. I love how they managed to incorporate the Samsung Frame tv on their gallery wall. Degas' painting The Dancing Class turns out to be the best choice for perfectly fitting the Tv in the gallery wall's style.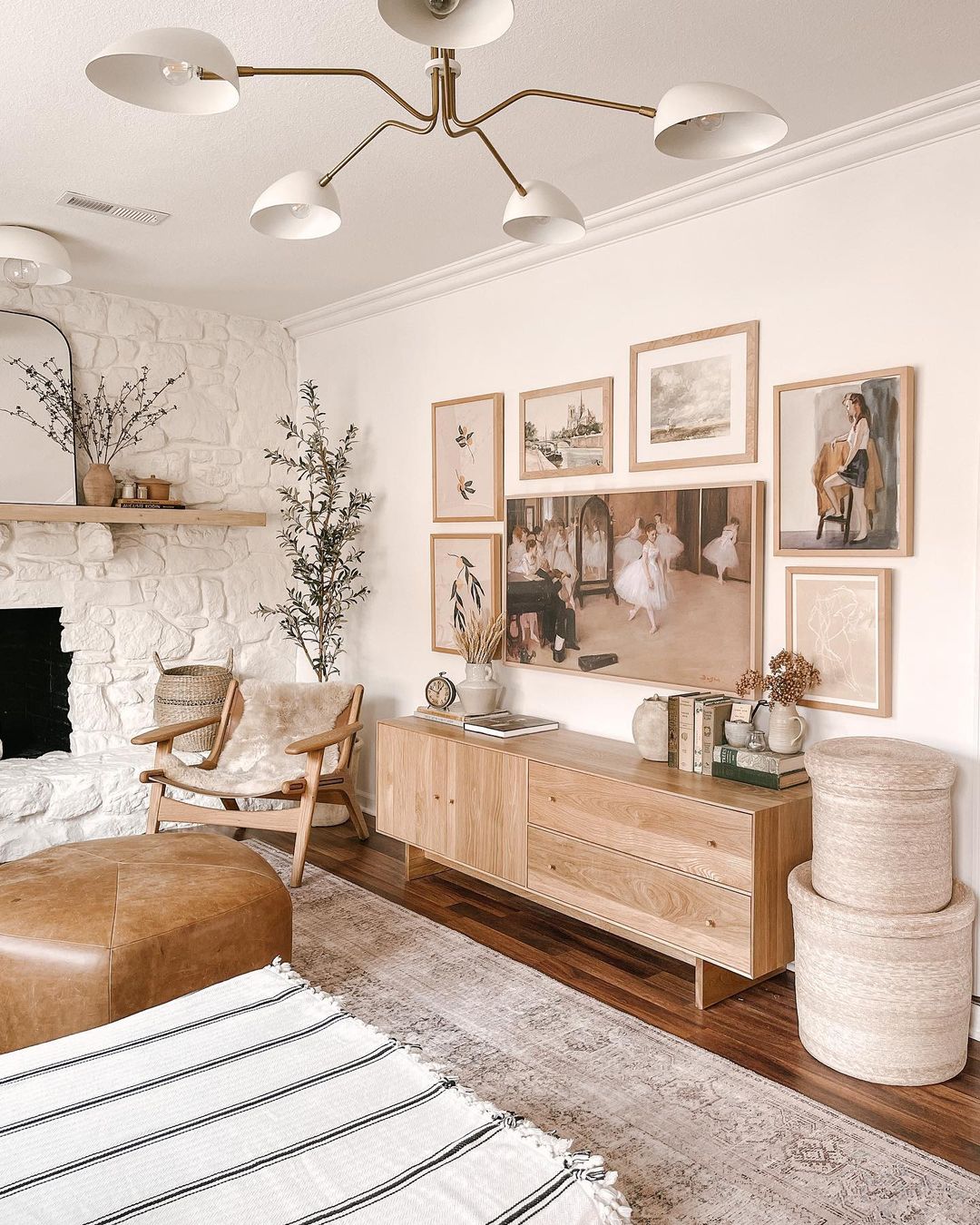 They created this reading nook during the Covid quarantine, and it turned out super nicely with their vintage green book collection. I could hop in right away with a good book, although I'm pretty ok with my reading corner as well 😉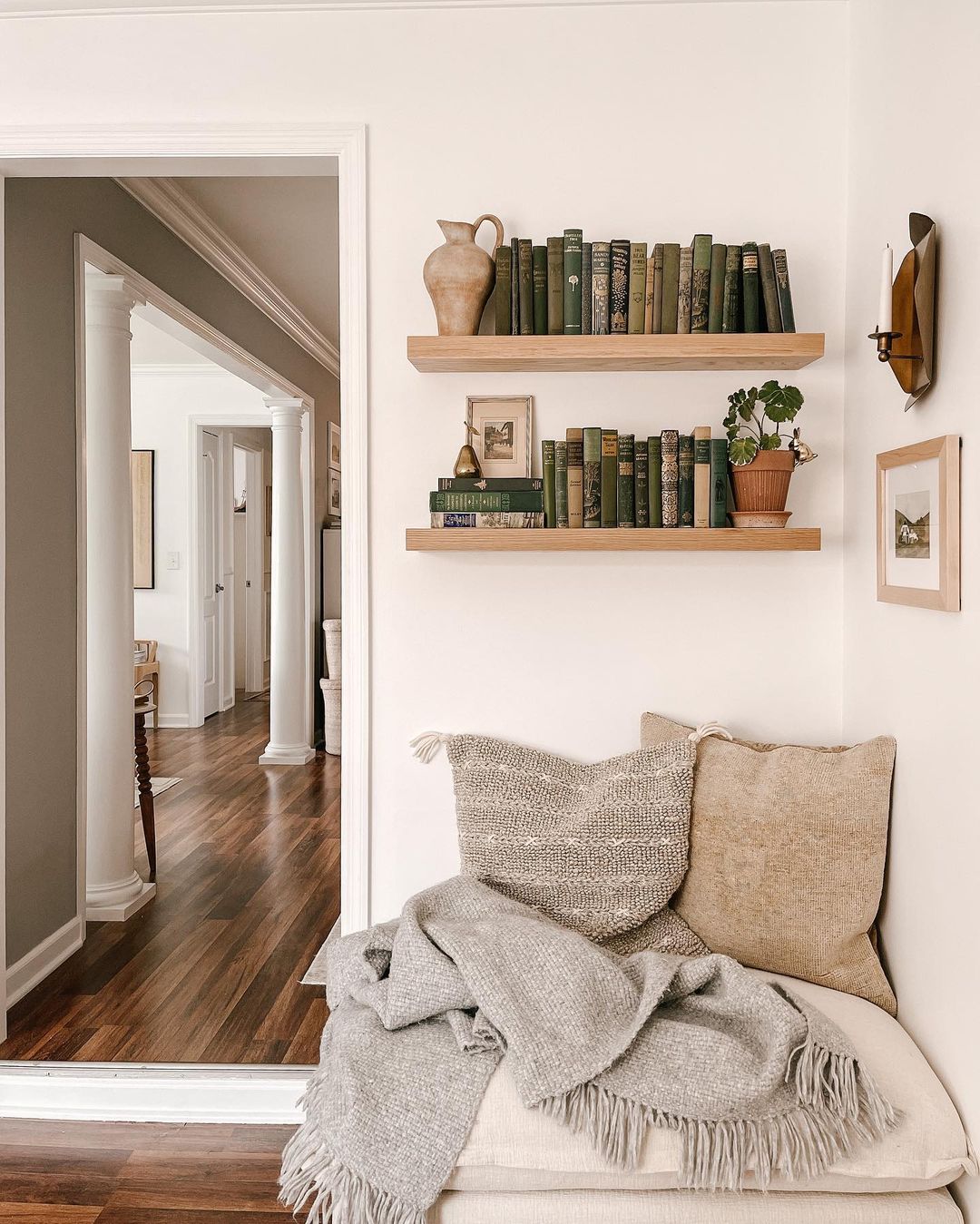 The natural light is flowing abundantly in their living room. If I would have to define the focal point of this room, I could not do it, but according to Hannah the book shelf is the center of attention. The chairs are slipcovered and can be washed, no wonder why this was important to them when choosing this light color. The Gabriel chairs are from Sixpenny, the sofa is the Portola Slipcovered sofa from Lulu and Georgia. I think the coffee table, the wooden stool and the Evet rug from Lulu and Georgia are the perfect combination to get to this neutral living room.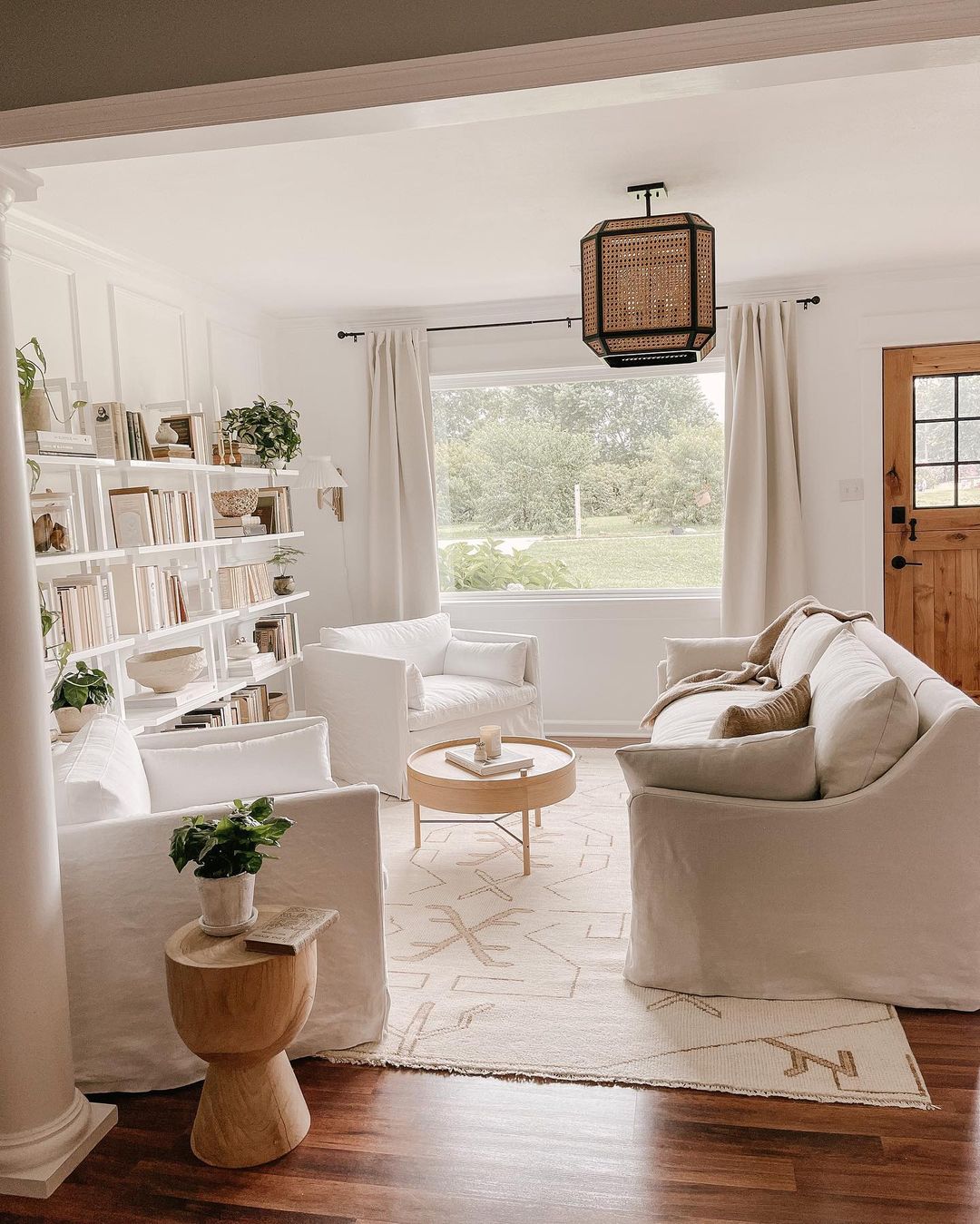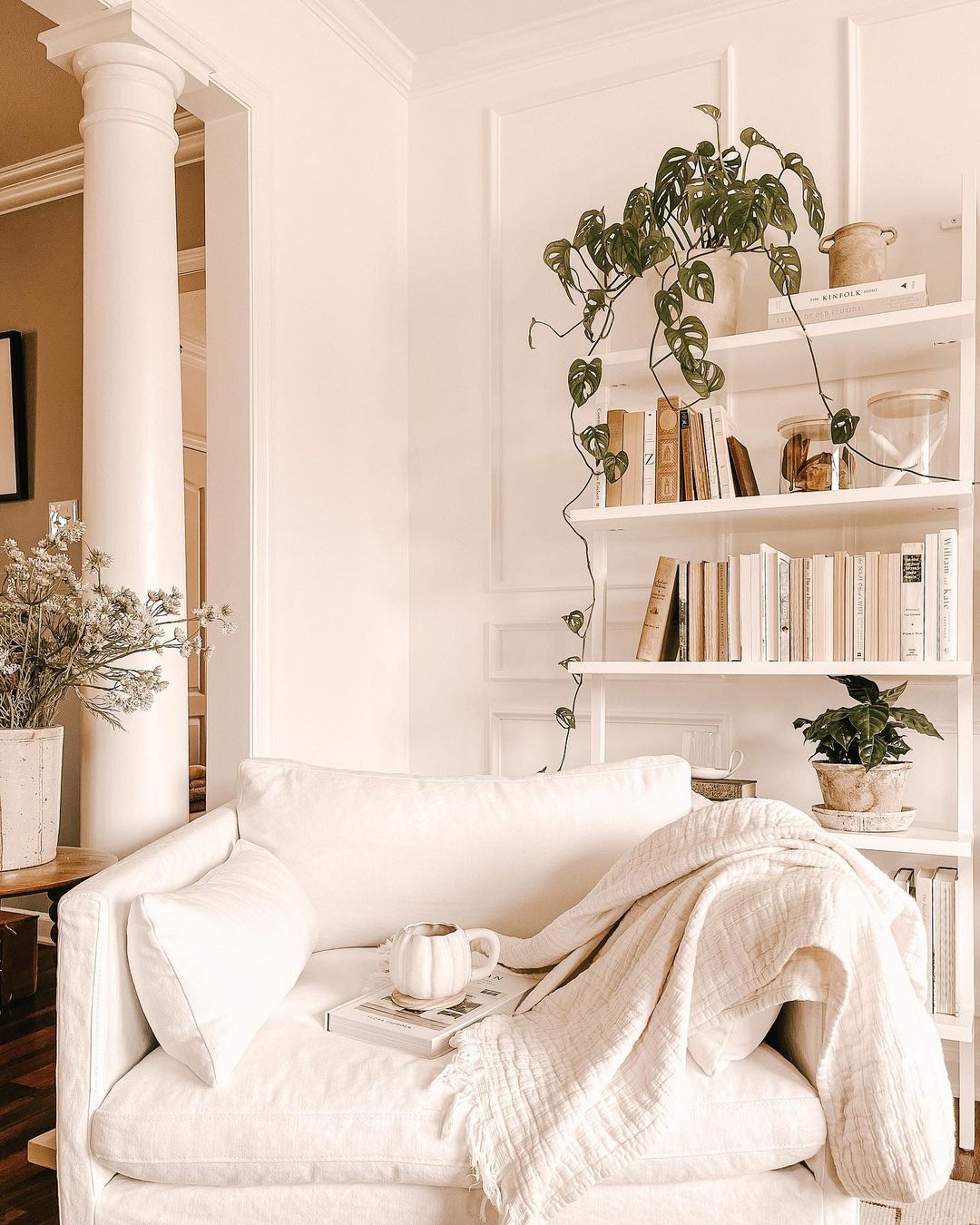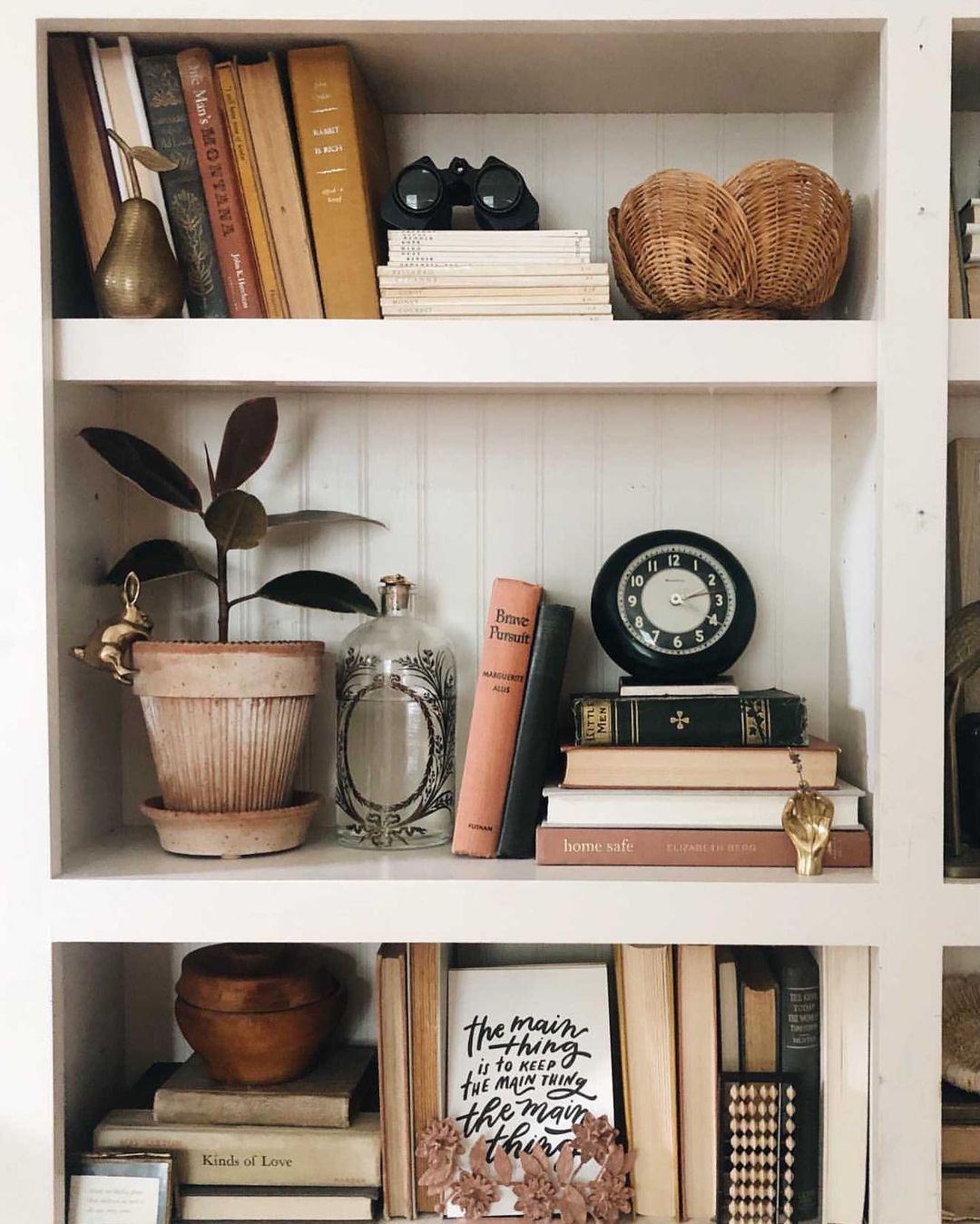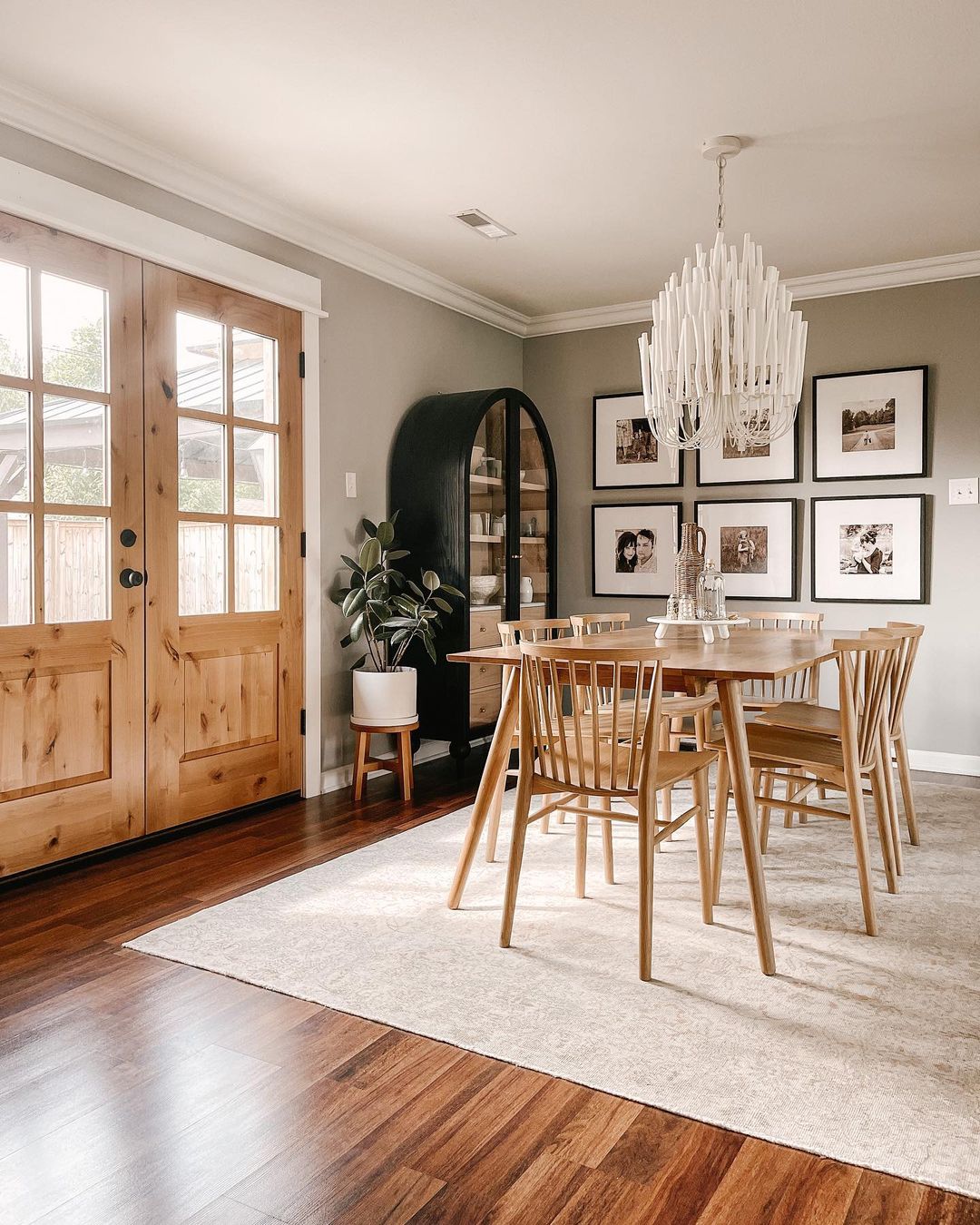 The Z11 Black Silk White Pendant is the absolute focal point in their bedroom. The walls are lime washed and Hannah has chosen the Bone color from the German Bauwerk Colour. By the way, they are shipping worldwide, so do not hesitate to contact them if you fell in love with something from their color palette.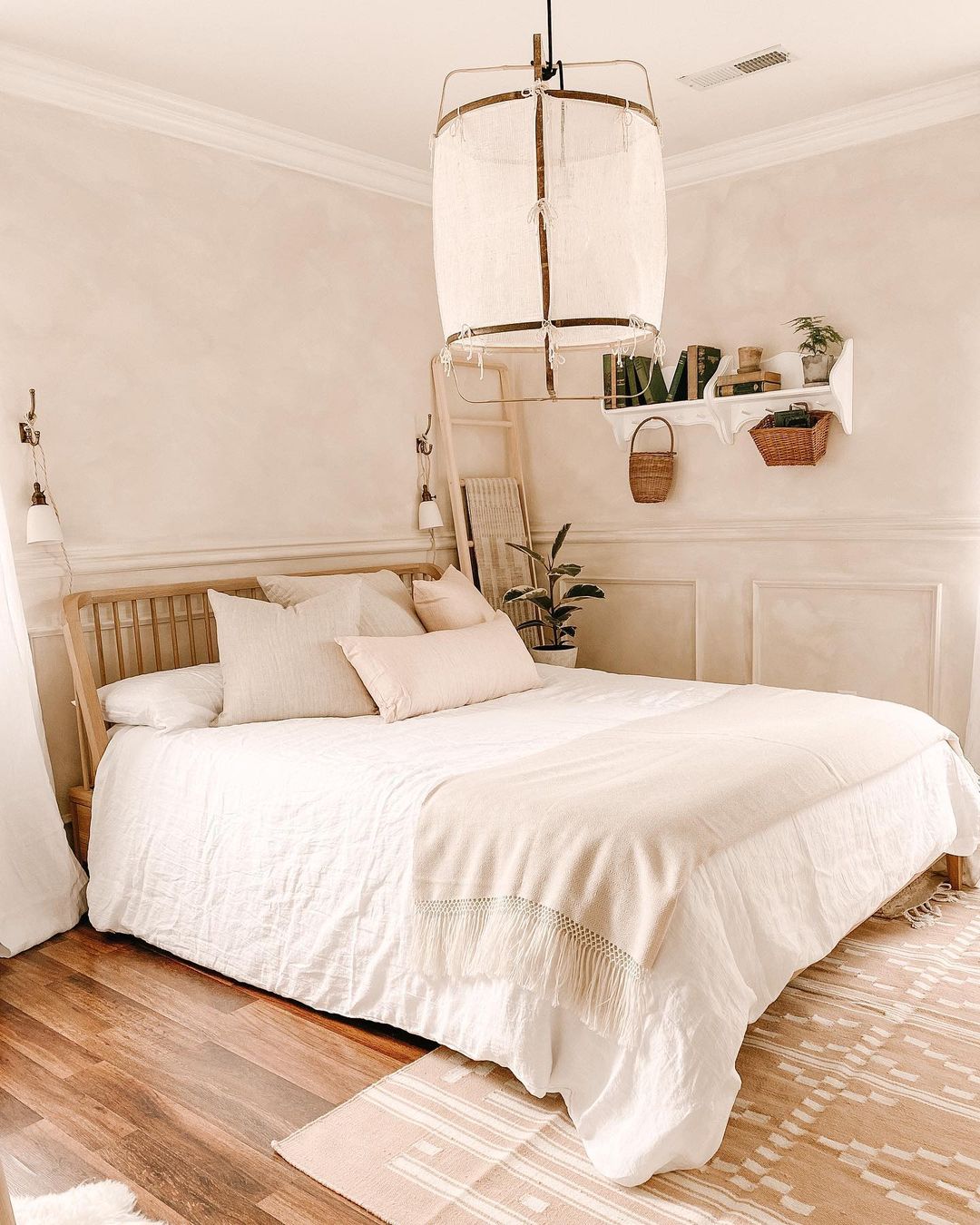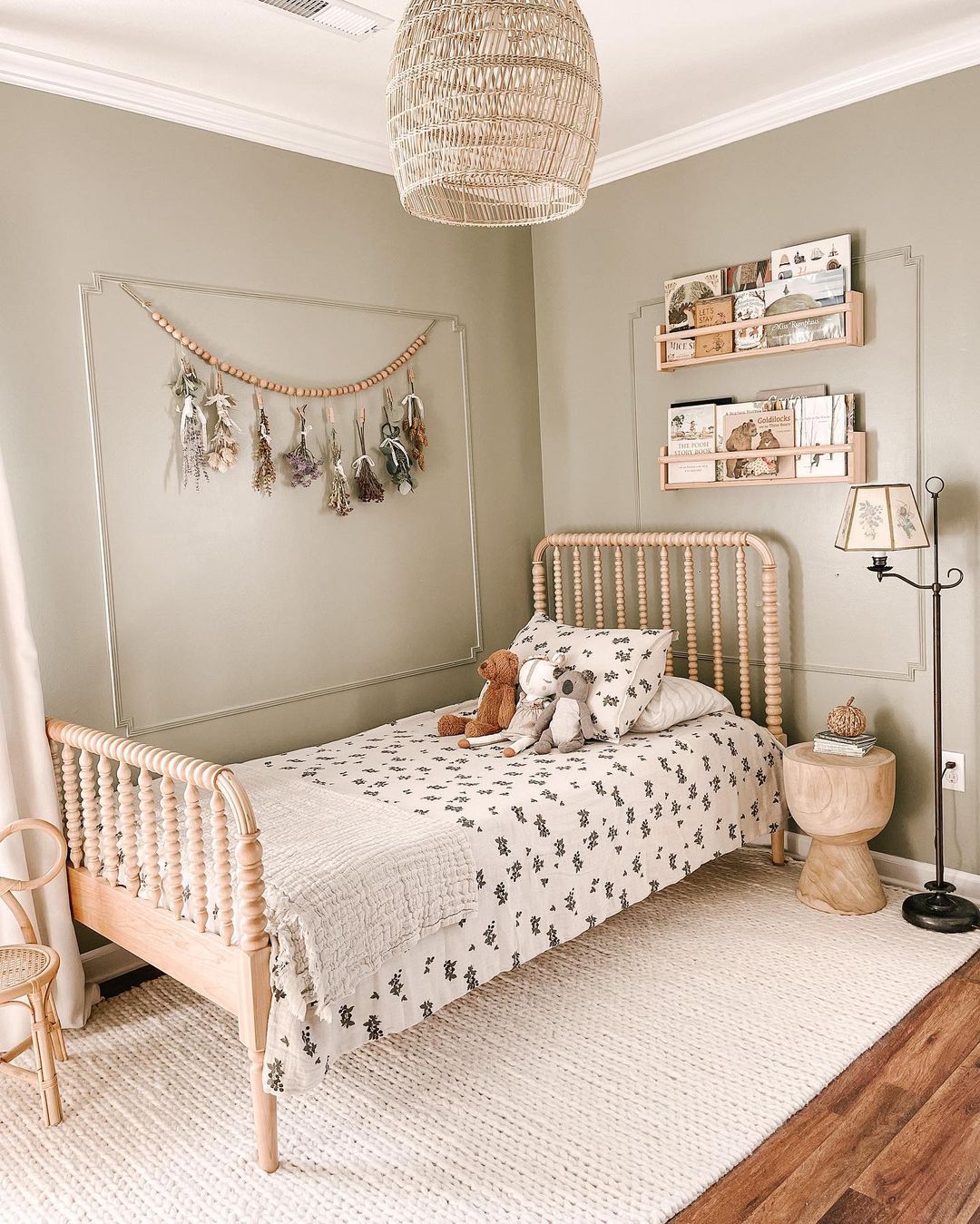 This is one of the most stylish, small bathrooms I've ever seen. It's simply perfect. Most certainly, Hannah knows that the Devil is into the details 🙂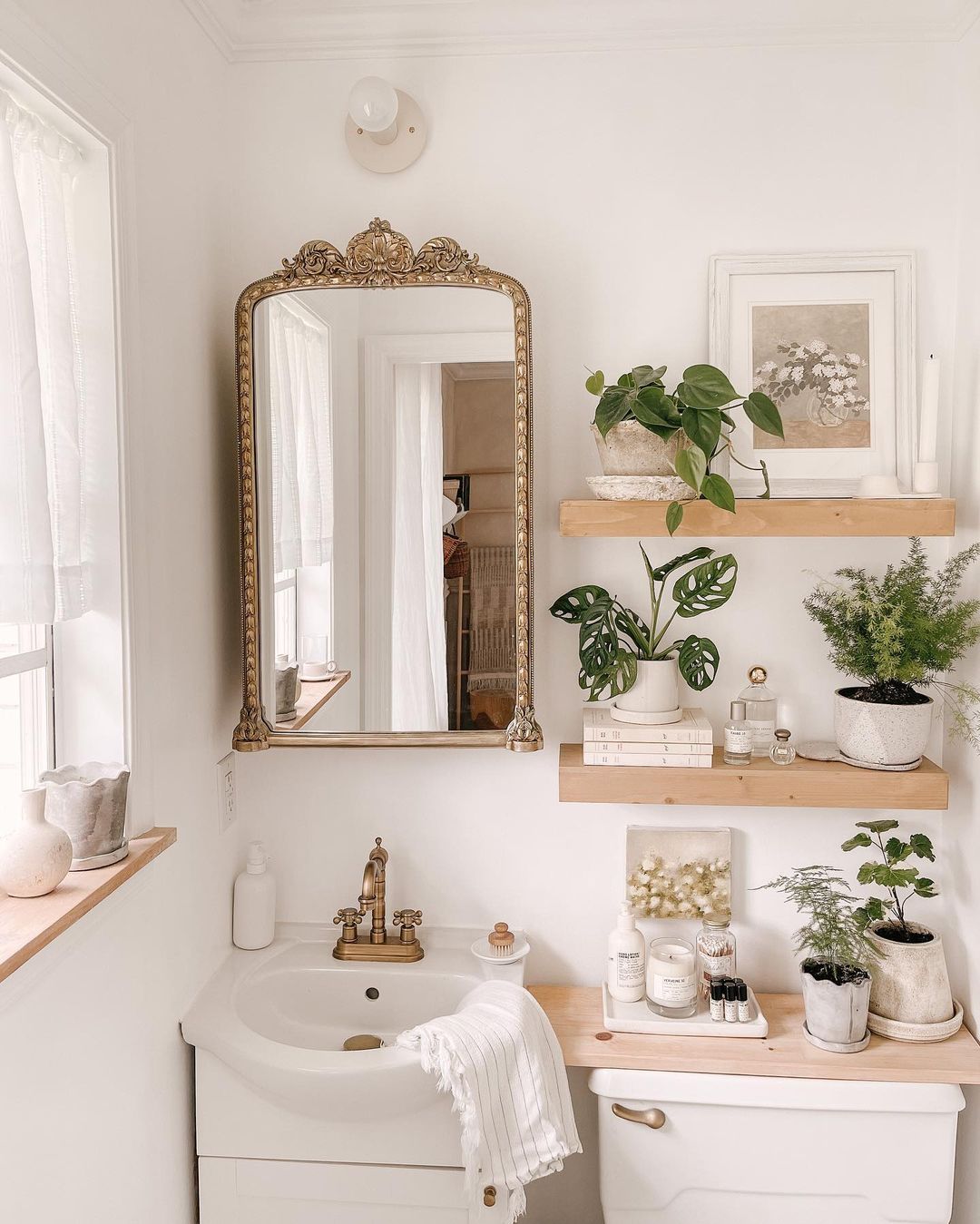 Their entryway is in full sync with the rest of the house. This beautiful door is a Farmhouse Dutch door from Rustica. The bench with its super clean lines is from Maker & Moss.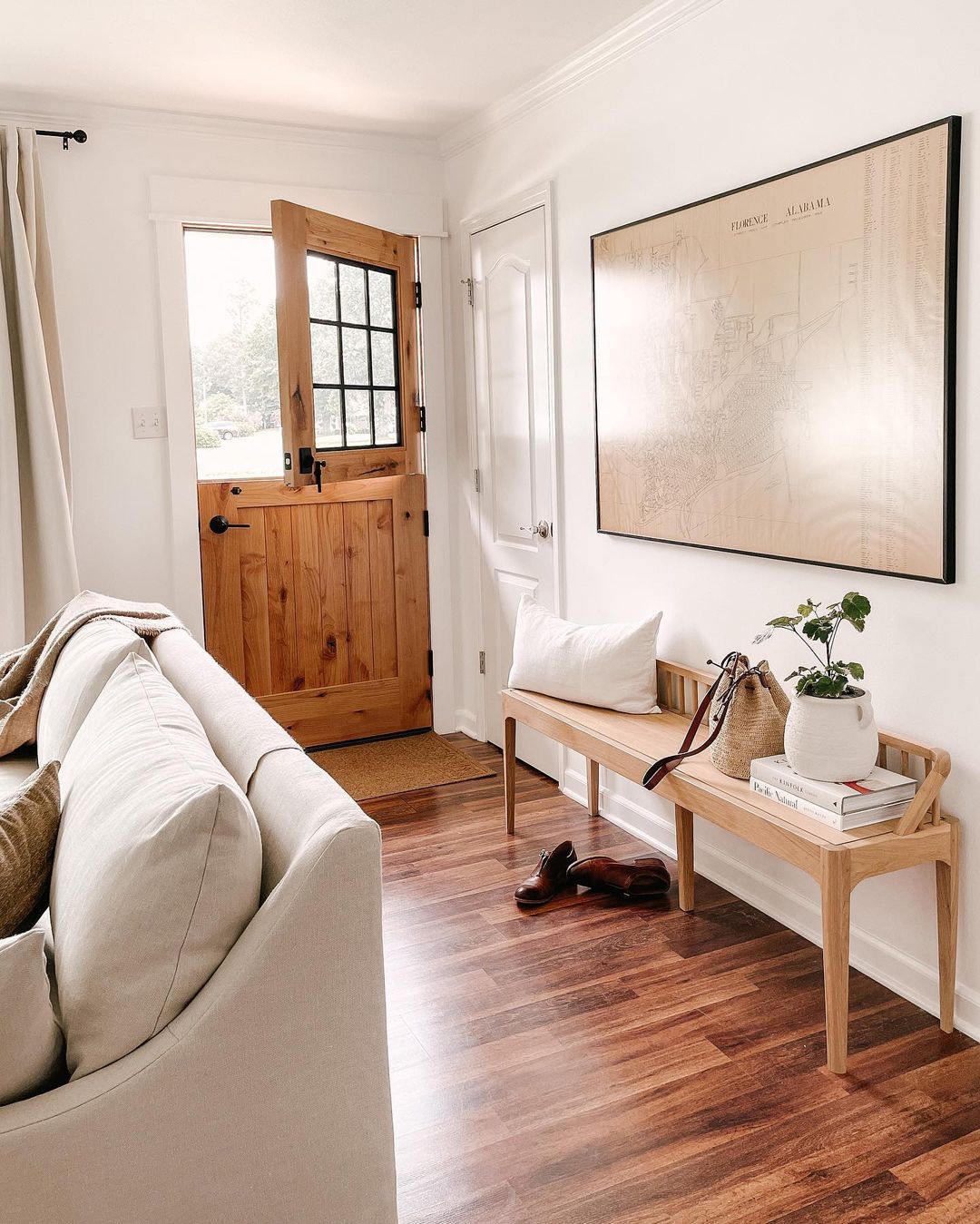 What a lovely home with warm vibes! I'm grateful to Hannah for letting me/us inside her house, but I'm even more grateful for the fact that her story found me in this period of my life 🤍
You can read more about their home and family life on her blog Thistle Harvest.
Photo credits: @thistle.harvest – shared with her kind permission