Creativity on how to utilize spaces and the styling of interiors in Sweden is limitless and priceless. Alvhem is one of my favorite real estate agencies whose work I admire a lot. They usually style their interiors with Grey Deco Interiors, and I would move in into any of the houses styled by them, regardless if it's a one-room apartment, a 3 bedroom interior, a house, or a villa. I love every single piece of their work, impeccable style, color palettes, furniture, originality, etc. you name it, they have it all.
This attic apartment is a 3.5 rooms interior with an open kitchen to the living room, having a tower room, and an all-day sunny rooftop terrace. The view from this apartment is incredible thanks to the next-door neighbor of the Slottsskogen central park of Göthenburg, Sweden. The building dates back to 1902 which gives a charming feeling for the whole interior. It's on the 6th floor of the building, but an elevator is available, so no issues in this department 😉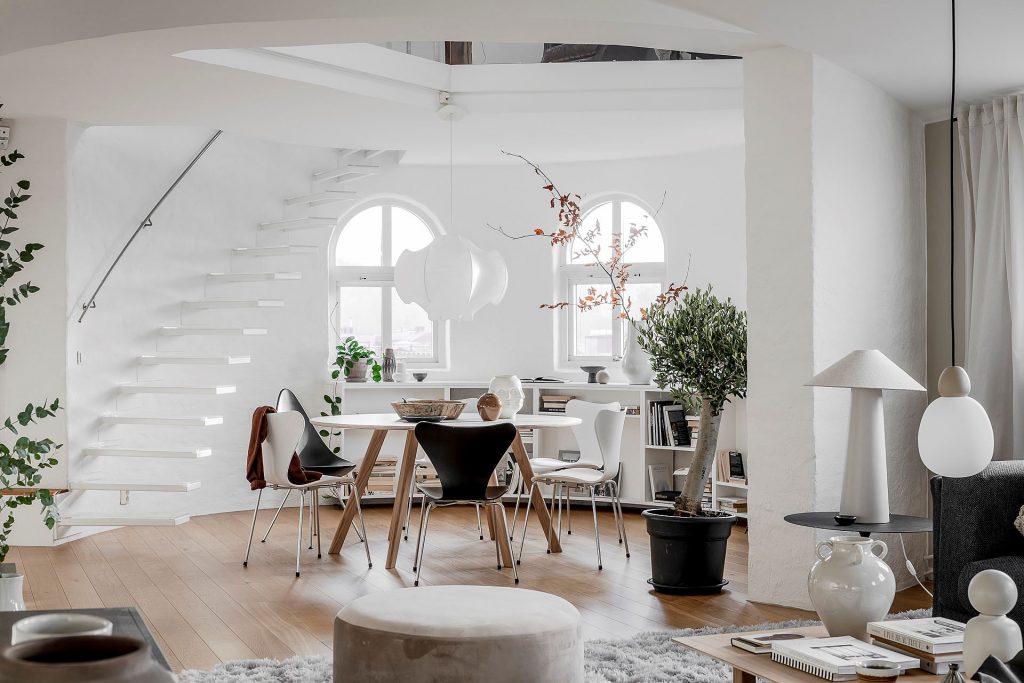 The dining room is surrounded by a curvy bookshelf and a lot of daylight thanks to the turn-of-the-century windows. The dining chairs are the Series 7 by Arne Jacobsen, and the pendant light above the table is a Viscontea by Achille and Pier Giacomo Castiglioni. What a luxury having a working fireplace and a walk-in wine fridge next to the floating stairs.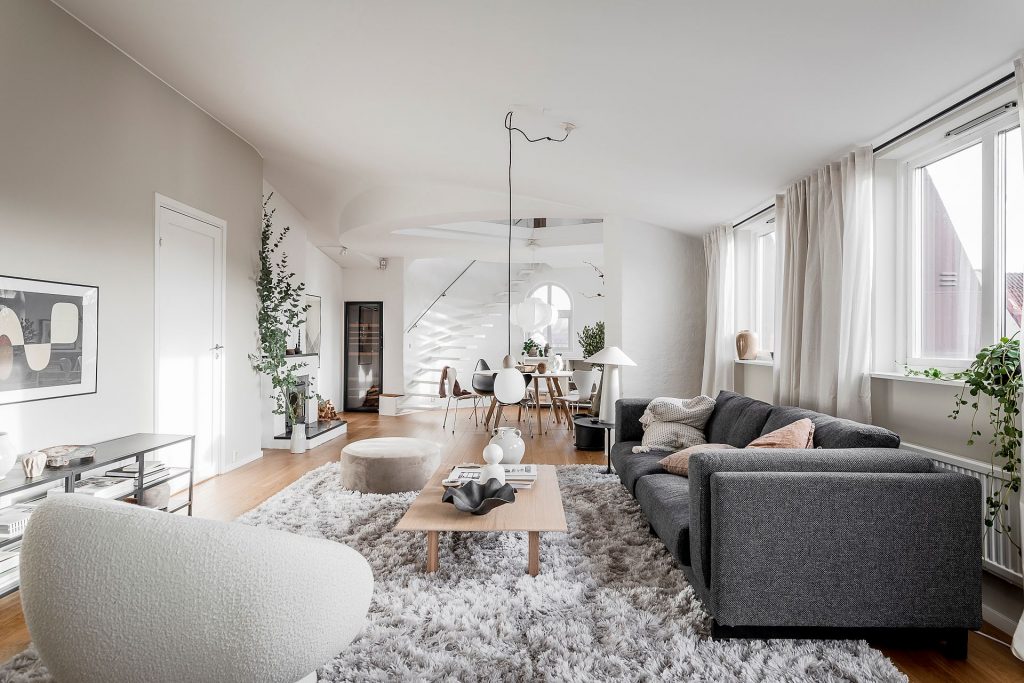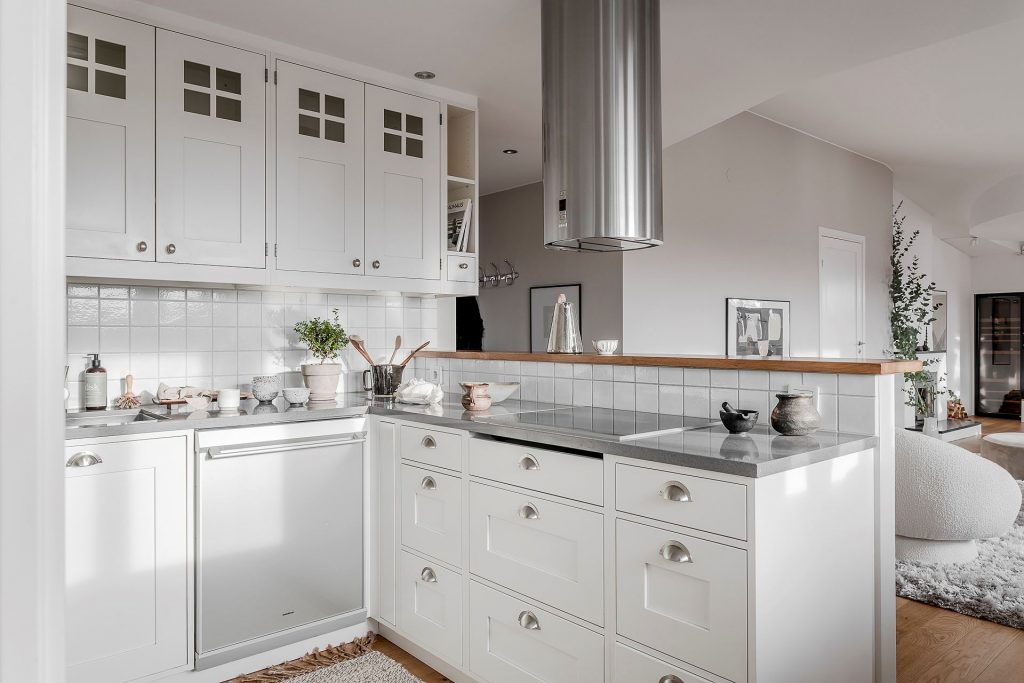 From the open kitchen, you can walk into the bedroom. I love the vintage desk combined with the Drop Chair designed by Arne Jacobsen for Fritz Hansen. From this small bedroom, you can go out to the rooftop terrace, a small one but a cozy one for real. What can you want more? Fresh air, sitting area, and a great view. Bring out your cappuccino and enjoy life.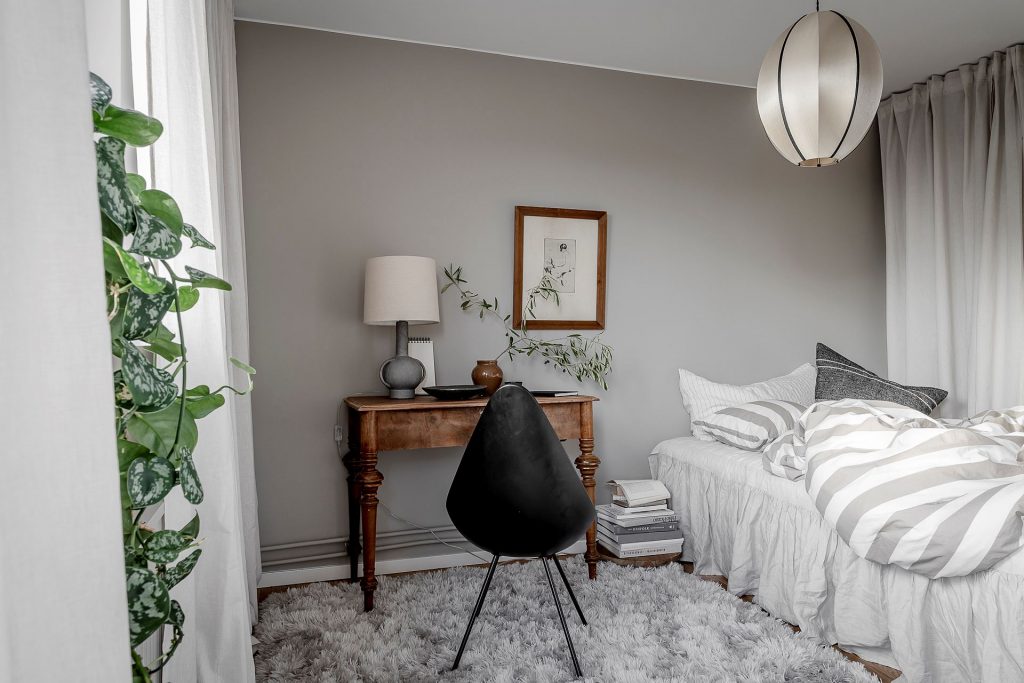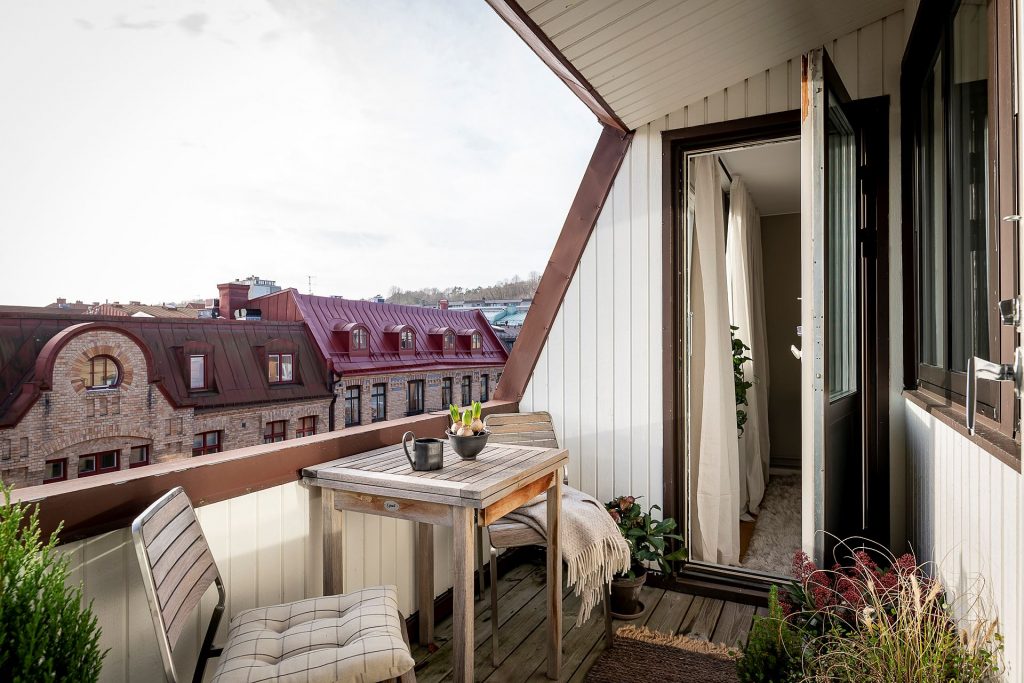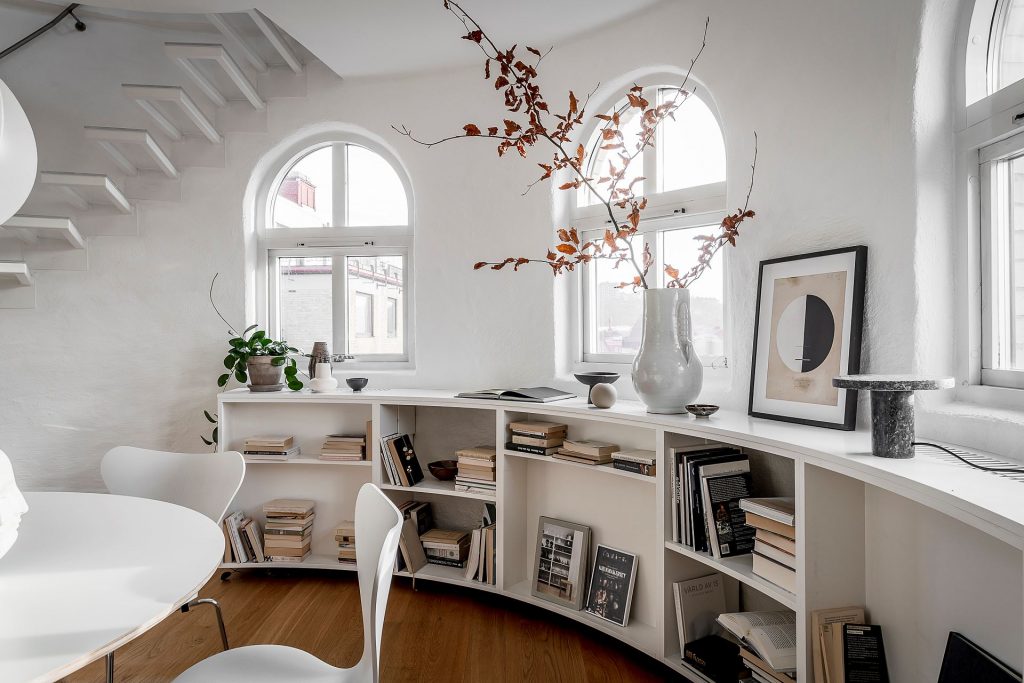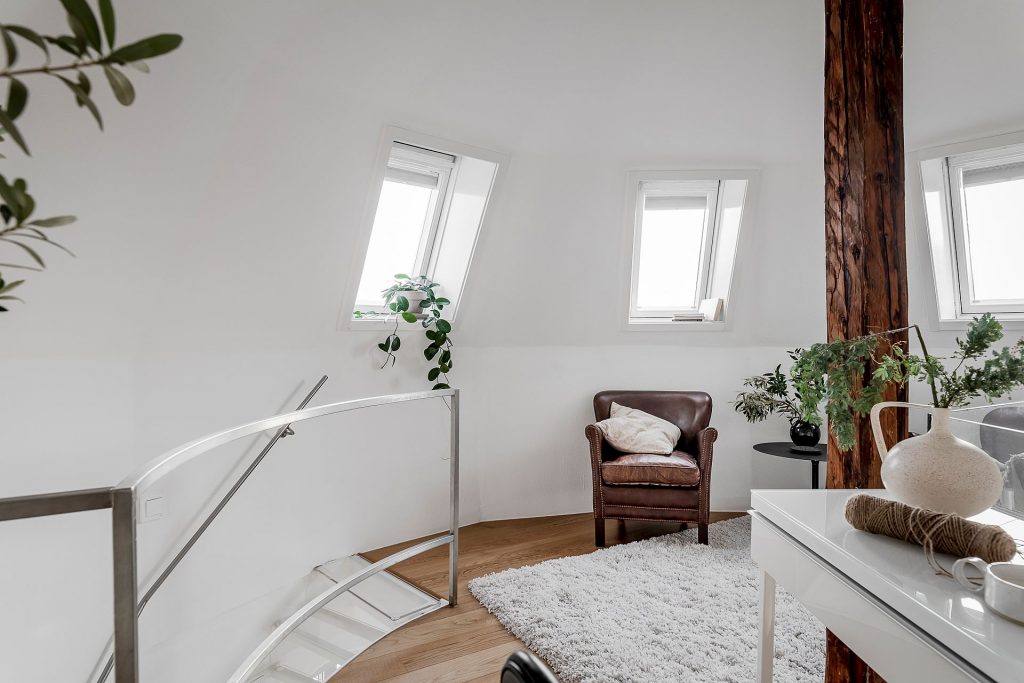 The tower room is a real focal point in this apartment. It's a combination of working space and leisure. The home office corner has some great vibes due to the vintage decoration. The beam pillars take you back to the beginning of the 20th century giving a historical feeling of this place.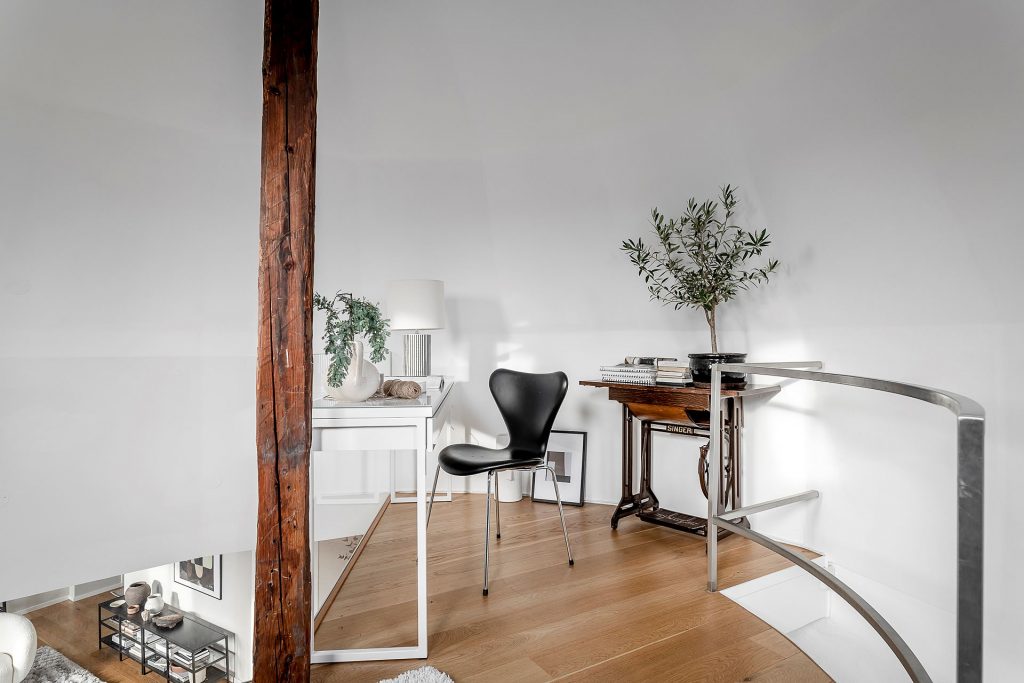 The top floor's bedroom is a nude, earthy tones room (I love the wall's color) having its focal point at the Gong Arche Silk ceiling light above the bed.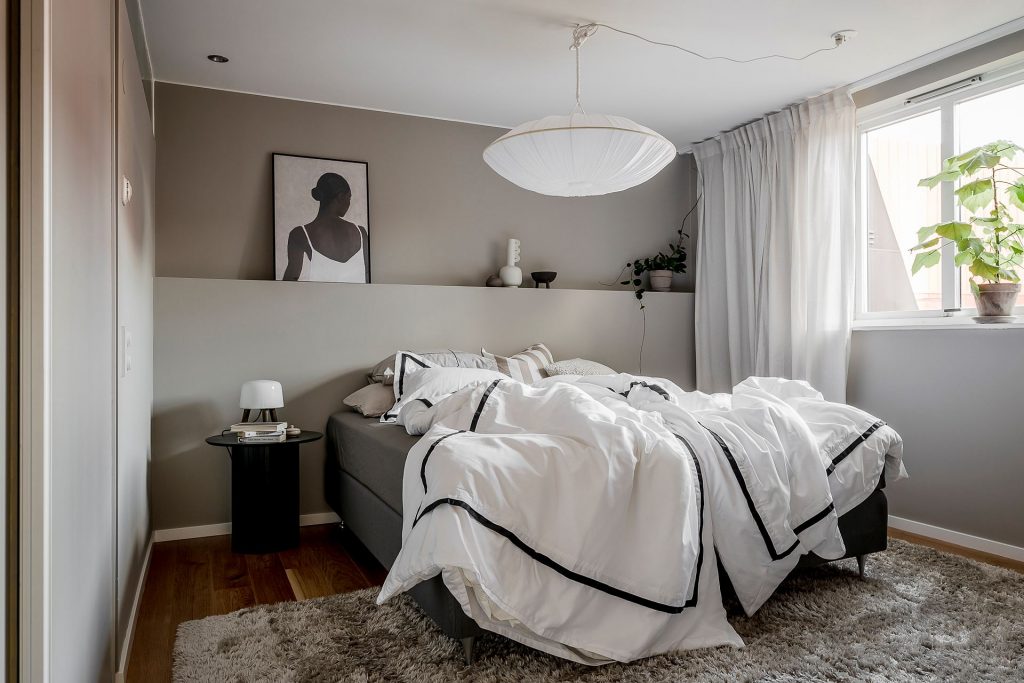 This apartment was for sale last year, and of course, it's sold. No wonder why…most certainly the new owner is one hell of a lucky person purchasing this wonderful place. I hope, I inspired you by this beautiful apartment, see you next week with a new charming home tour.
Photo source & credits: @Alvhem