Apartments, where I see hints of historical brands and iconic pieces, always amaze me. When I discovered this apartment, I instantly knew that there are so many classic or vintage elements that I need to write an article about it. This is a 55 sqm apartment in the charming Linnéstaden neighborhood of Gothenburg, with 2 rooms and a small kitchen combined with a dining area. Every room contains at least one iconic furniture, so most certainly, this apartment's red thread is the collection of the evergreen pieces. The living room has everything a home needs to become original, natural, and stylish. The gallery wall is an instant beauty that can be seen right from the entrance, not to mention the stove that is beyond being beautiful. Imagine sitting here with a glass of wine while the fire crackles. The mirror from the hallway is a vintage piece most certainly purchased on a flea market, I see some patina on it that makes it even more original.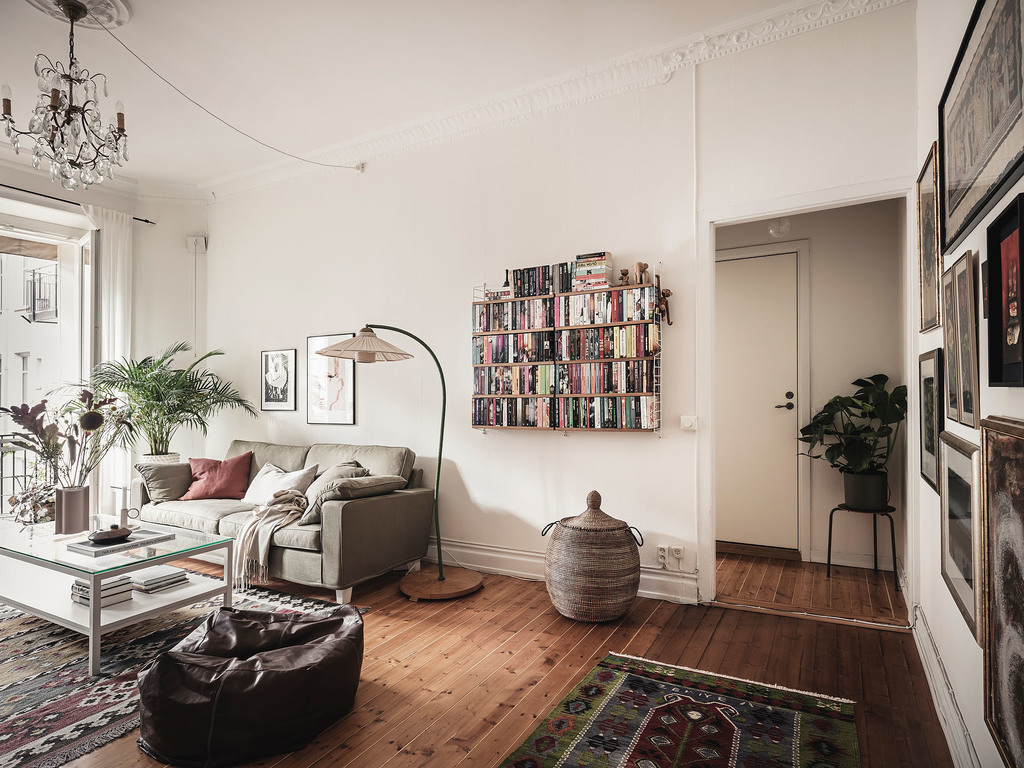 The kitchen is small but cozy enough. I love the shelves next to the window. This is not the first time when I see this genius idea of using a narrow space. I instantly spotted on the top and middle shelves the classic wooden birds designed by the Danish Kristina Vedel in 1959. The dining table is a minimalistic centerpiece combined with the black chairs. The red E60 stools, designed by Alvar Aalto and becomen famous in 1934, are the gem of this small kitchen. If you find these irresistible, you can buy them here or here if you are from my country. These chairs can be used also as side tables next to your bed, so it might worth the investment 😉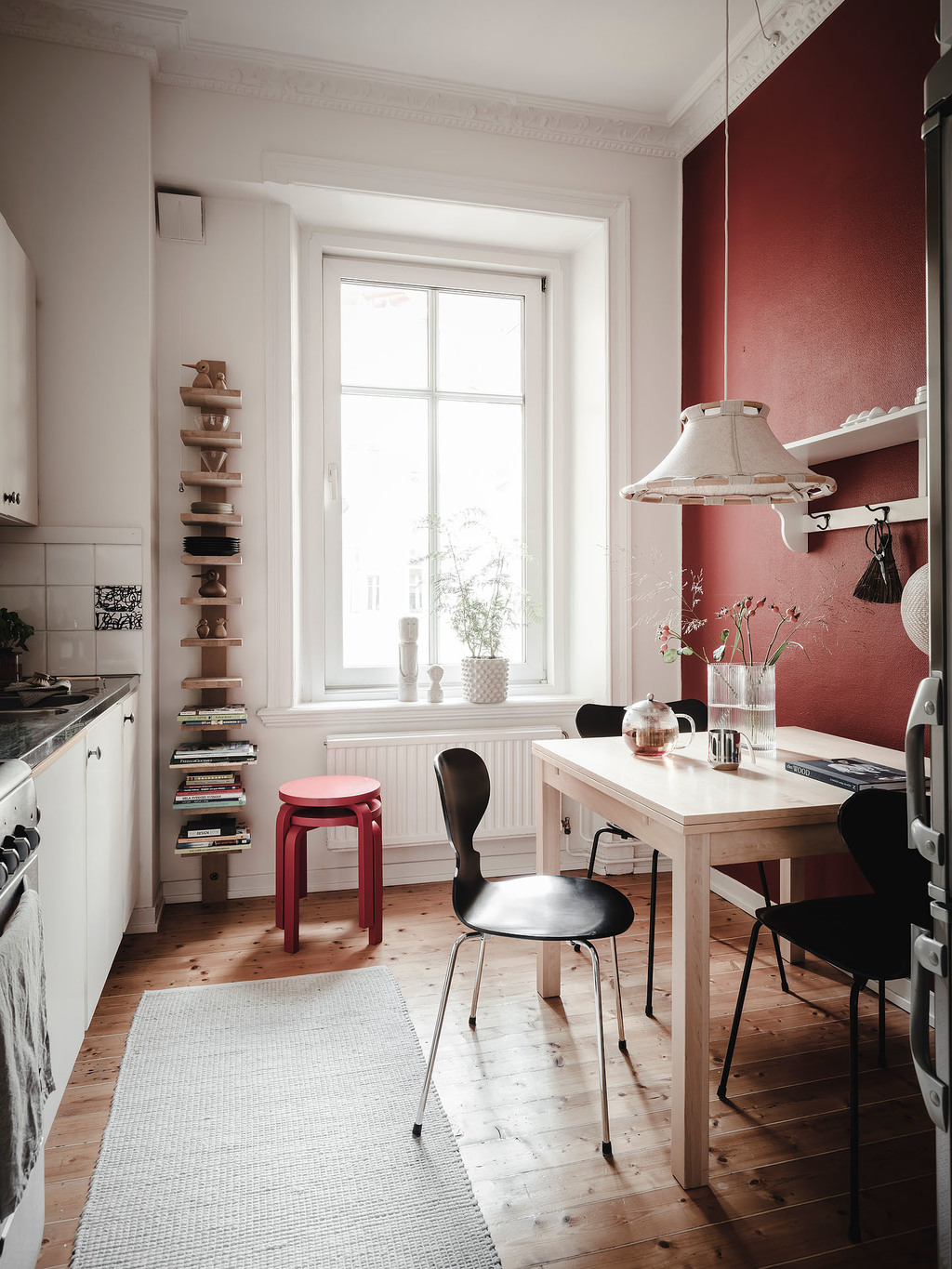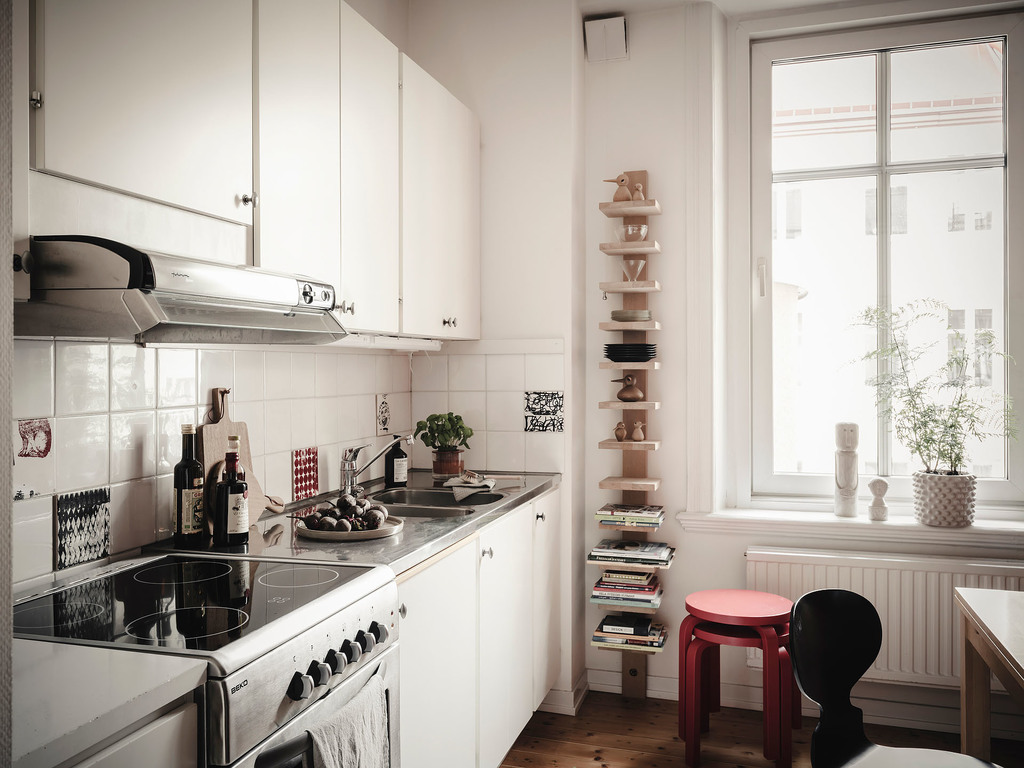 The bedroom is relatively small, but this does not mean that a home office, a comfy bed, and a wardrobe are not fitting in. The 3 art pieces gallery wall turns it into a more inviting place.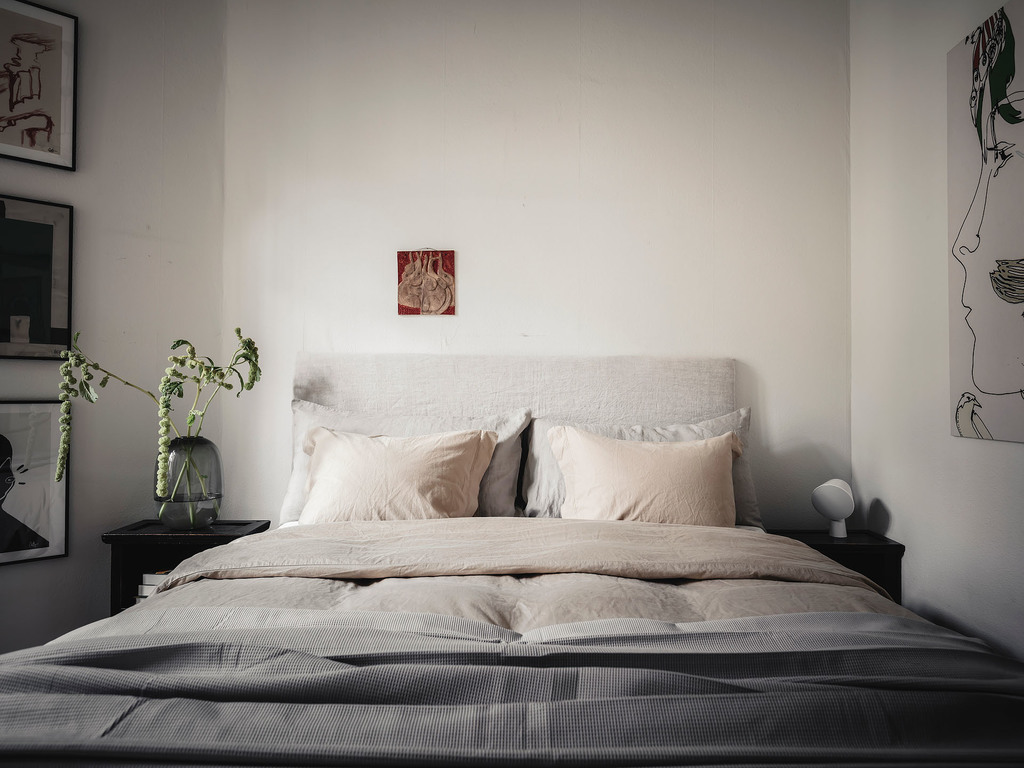 A classic 7 series Arne Jacobsen chair and a green banker's desk lamp assures the continuation of the red thread throughout this room.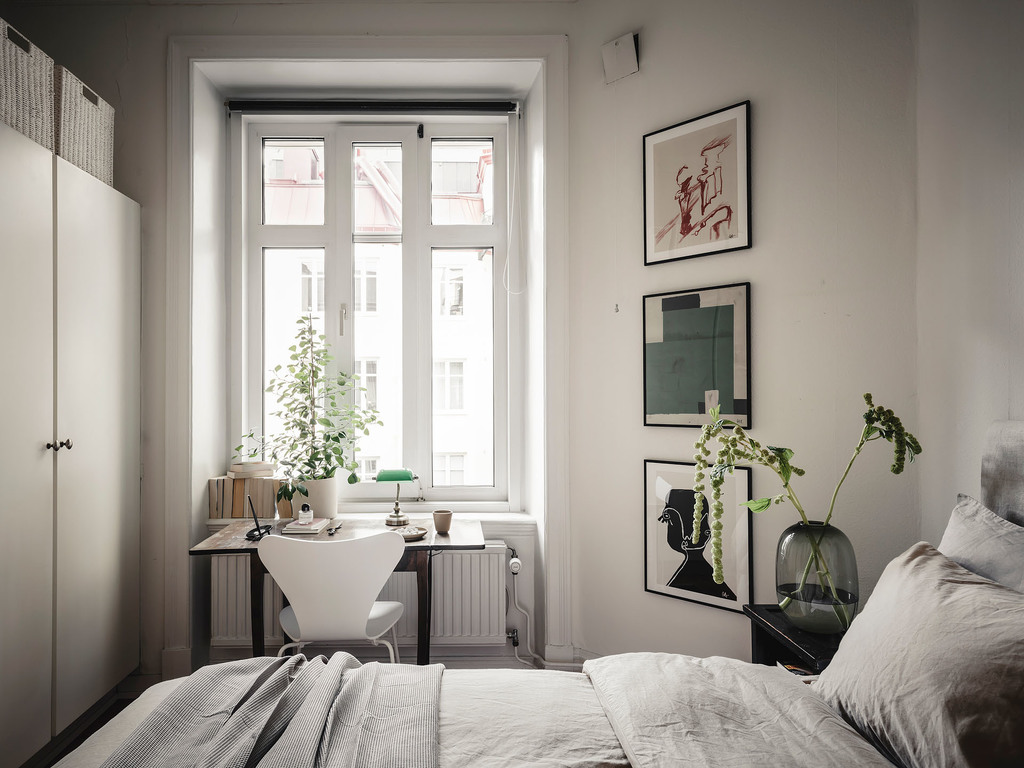 I love the fact that Nordic people keep their bathrooms as simple as possible. You can rarely see floral tiles or crowded patterns, they prefer to go with basic colors and simplicity.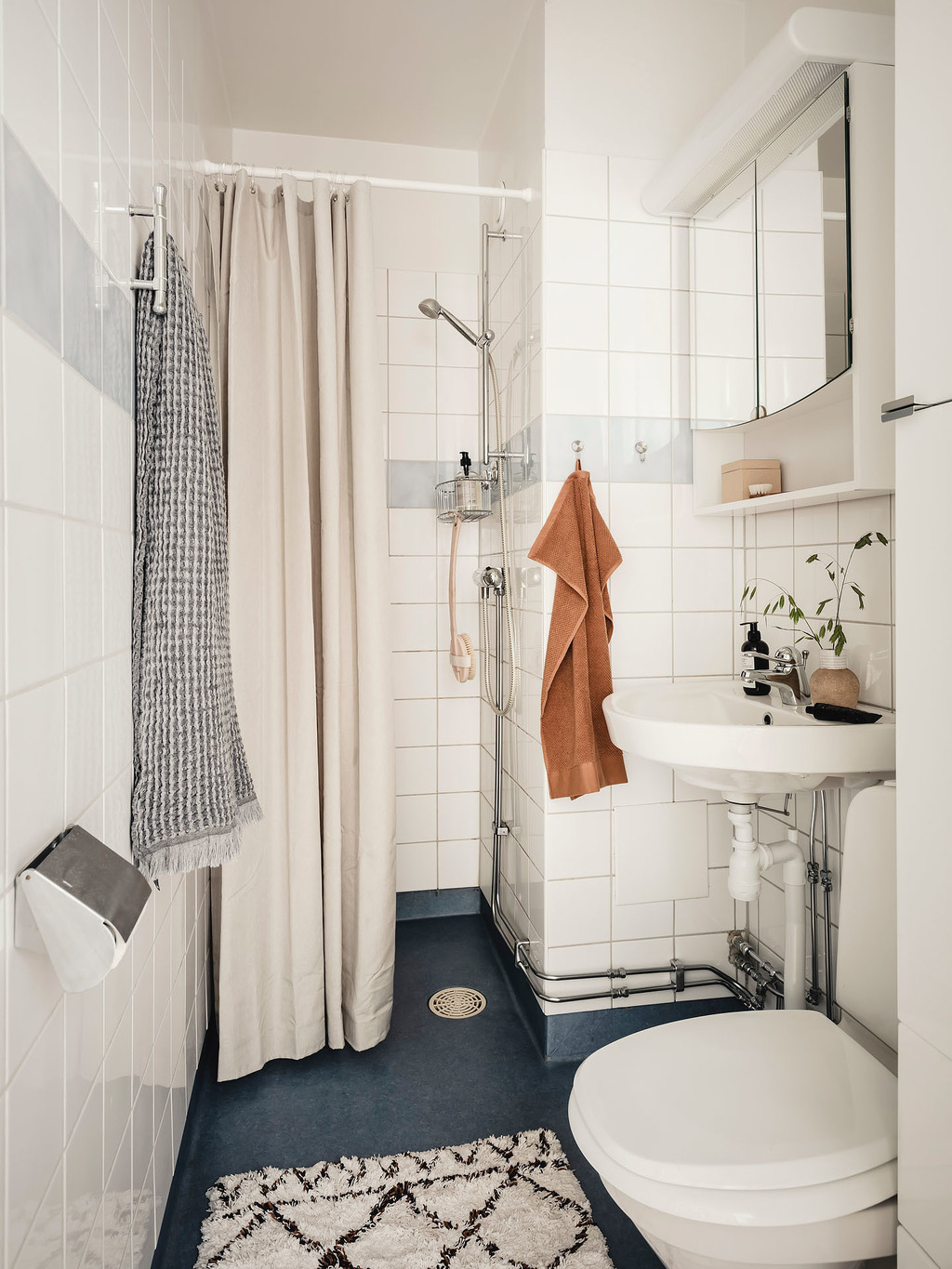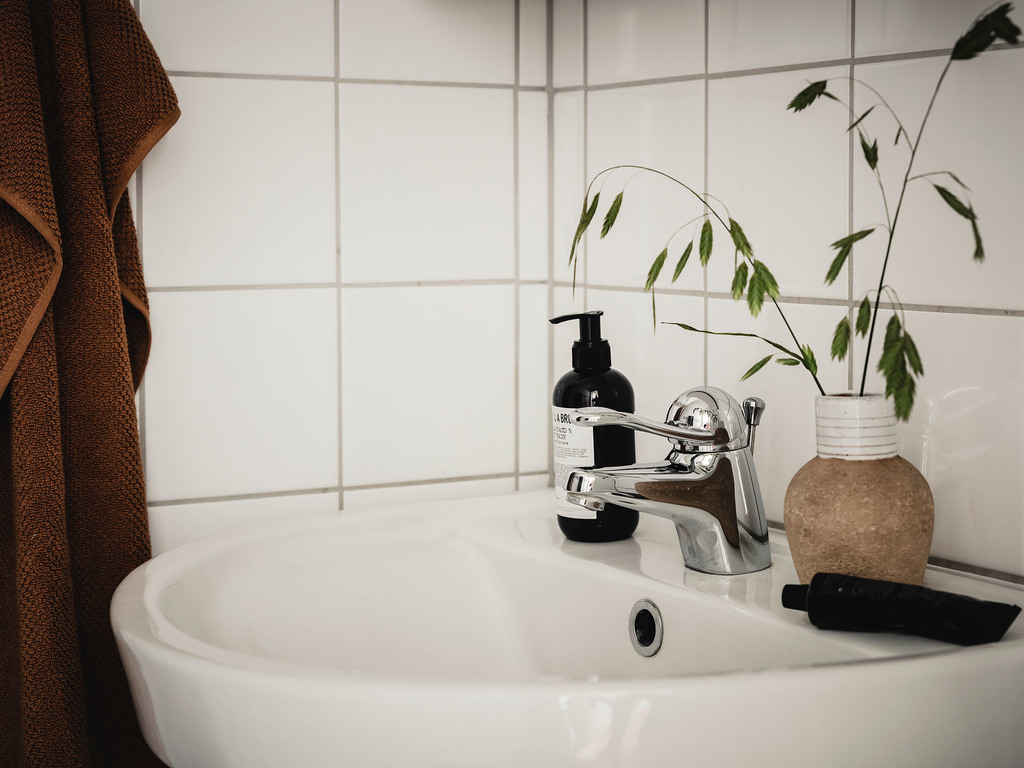 At the entrance and in the hallway we can see the marvelous wooden flooring that has been nicely preserved in the whole apartment. The carpet on the wall is an instant focal point of the place, I like it when people are bold enough to throw a carpet on the wall and turn it into a decoration.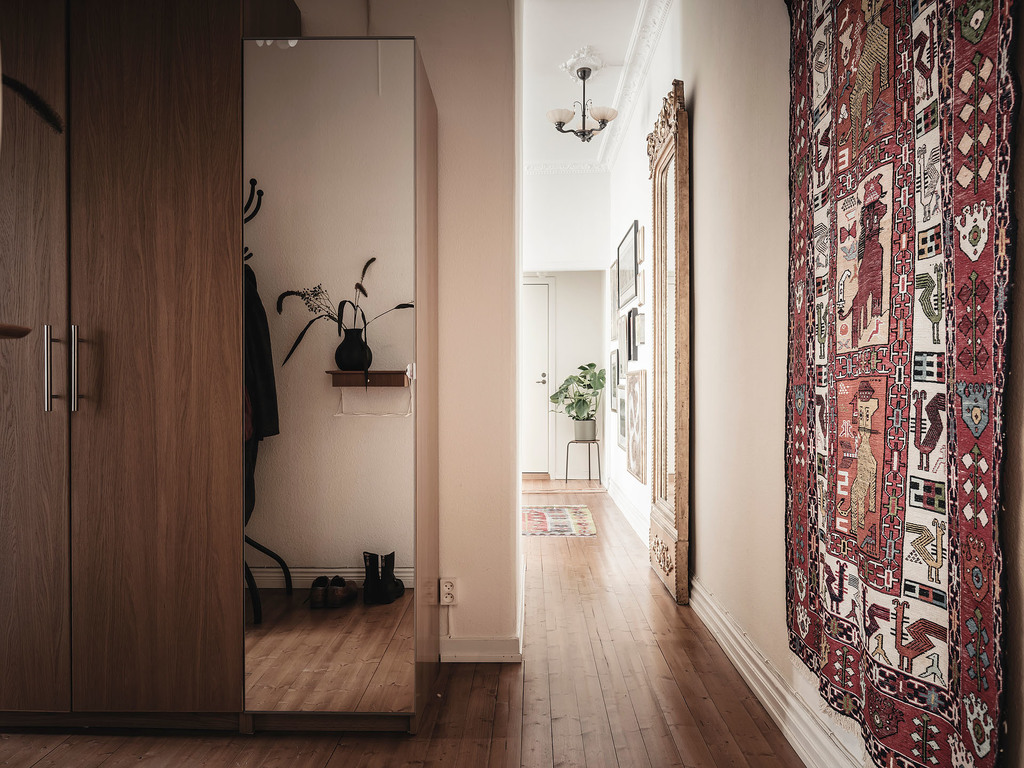 This apartment is inspiring with its 3.10 meters of ceilings, it lets your creativity finding its way both horizontally and vertically. Don't forget that original, iconic pieces can turn your home into a special place. The flea markets are full of valuable pieces, and let's hope when all these pandemic things will take over, we can enjoy again the magic of these markets.
Have a lovely start to the week.
Photo credits: shared with the cordial permission of Entrance