It was not an easy decision about my first home tour. I wanted something specific to the Nordic style that I would like to promote here on my blog, I wanted something different from the interiors we are used to in my region. I opted for an apartment listed by Entrance, a Swedish real estate agency I admire a lot.
Swedish people are famous for their talent to maximize small places and turn into livable apartments. No wonder why Ikea became so popular for their solutions for storage, foldable furniture and practicality. This 1 room apartment in Göteborg (Gothenburg) has everything a person would need for a decent life: a bedroom, a reading nook, home office, wardrobe and an open floor plan kitchen to the living room. All this only on 31 sqm. The apartment has an incredible vibe due to its Velux skylights, the visible beams and its height ceilings.
The imperfection of the right hand side wall makes the room even more beautiful. The gorgeous commode and mirror takes me back to the midcentury period when these classy pieces were very popular, I wouldn't even dare to assume that the commode might be from a different century. Either way it's a great focal point of this living room.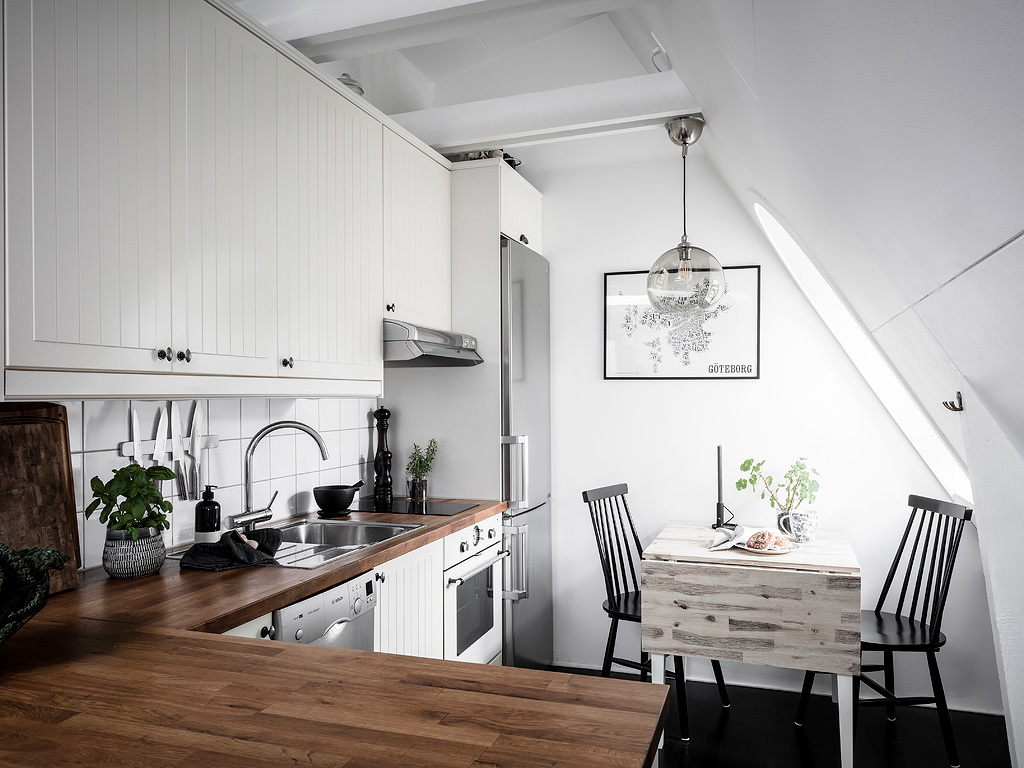 The kitchen is well-structured and clean thanks to the bright color cabinets. The dining table is even foldable so more people can join the dinner. If I'm not mistaken, the light is from Ikea.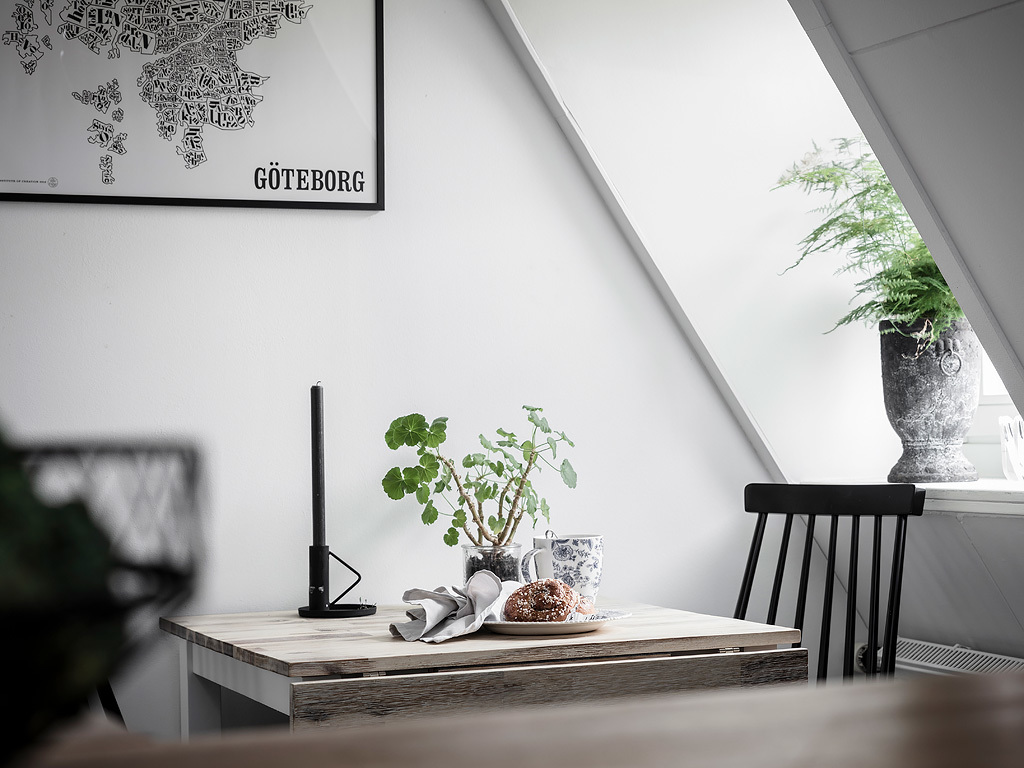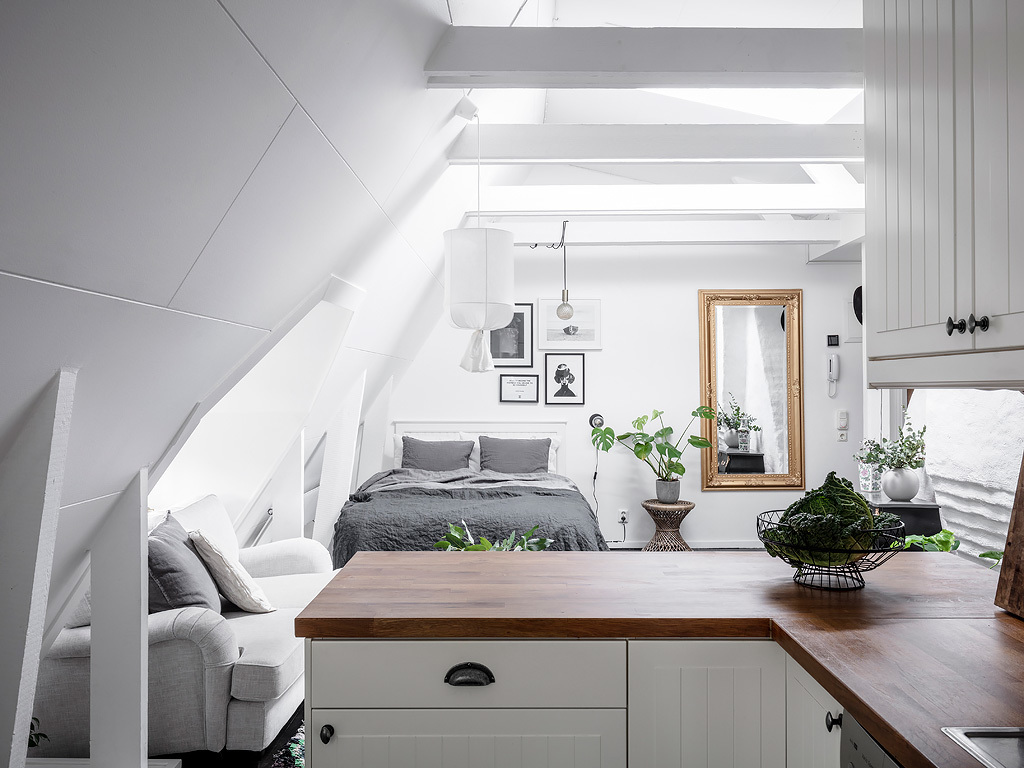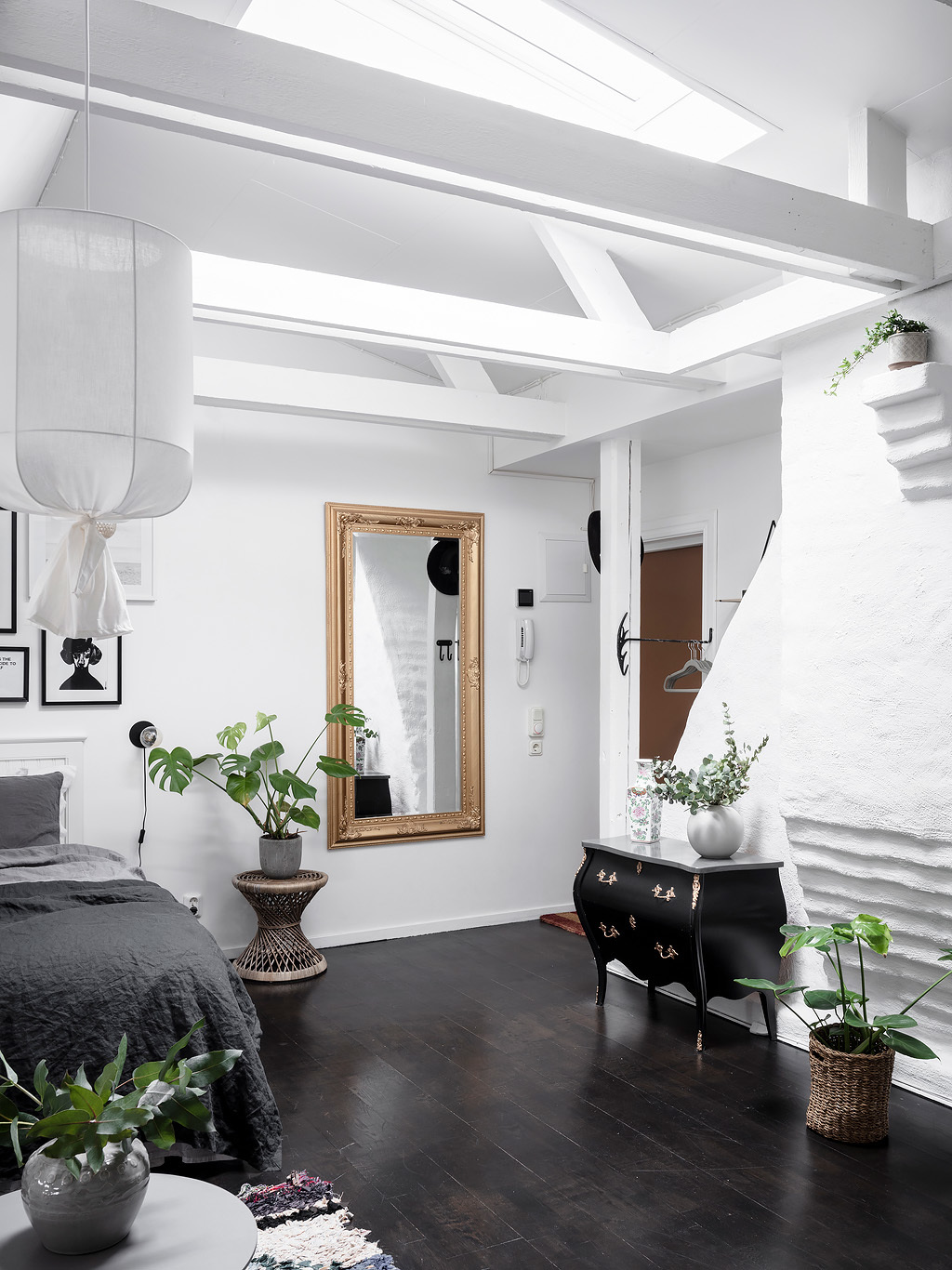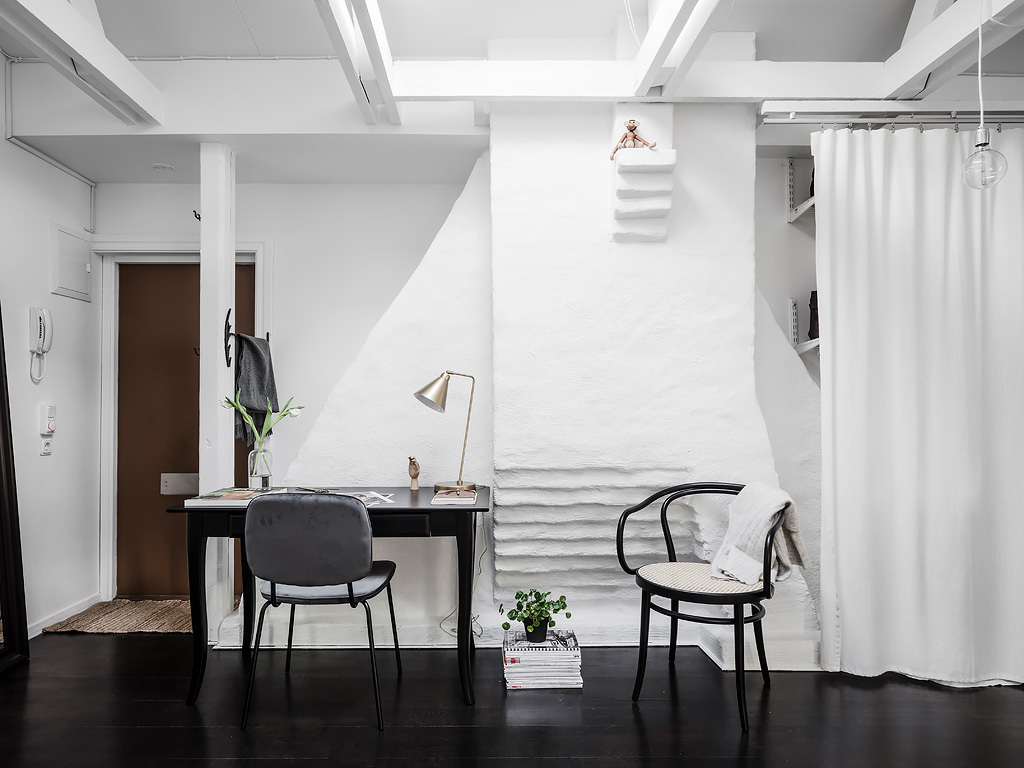 Home office in one of the corners of the living room. This is a perfect spot where to work on these strange days when we have to do remote work.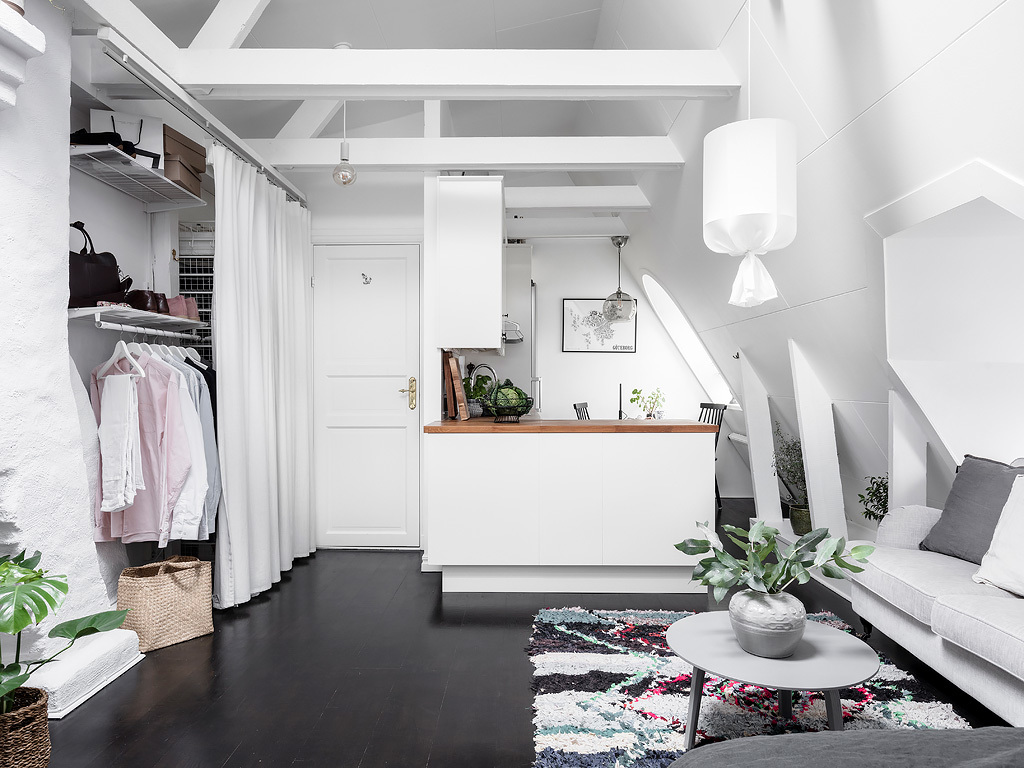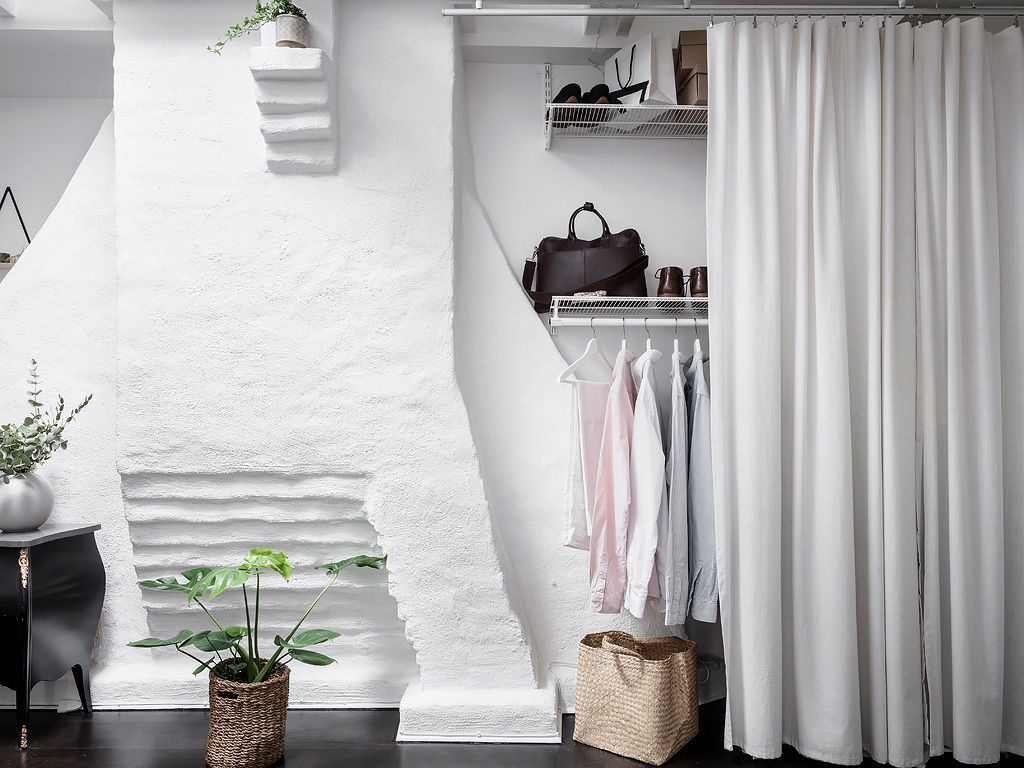 I particularly love the reading nook under the bay window. This is a perfect spot to hop in with a good book and a tasty coffee. The lighting above the table is a koushi pendant lamp, a very popular piece in the Nordic countries. You can find original lighting, but you can also DIY if you are handy. The wardrobe is an Elfa system hidden behind a white curtain, a genius idea when you are short on space, and this solution perfectly serves the storage instead of a large closet that wouldn't fit here.
I hope you enjoyed the tour, I for sure did.
Photo credits: Thank you Entrance for letting me share these photos done by Anders Bergstedt.