After a hectic week, it's always super relaxing for me to write an article about an interior. I was happy when Viktoria confirmed that I may share her photos on my blog. It means another week with another lovely Nordic nest. The reason for opting for her home was the pieces that captured my attention. Of course, the refurnished treasures from the past. Her kitchen is a 100% Scandinavian kitchen with neutral cabinets, vintage details, and Nordic wallpaper.
This lovely home is in a village outside of Umeå, a relatively small city in Easter Sweden, known for its museums. Viktoria is a photographer, a digital content creator, and a collaborator (having her dedicated blog section) on the Lovelylife.se site. She is living in this house with her husband and their two children, Wilhelm and Julie. Her Instagram feed is full of great inspiration for interior design ideas and for life in the countryside. She even has a nice conservatory that worth checking her feed, not to mention the cute small rabbits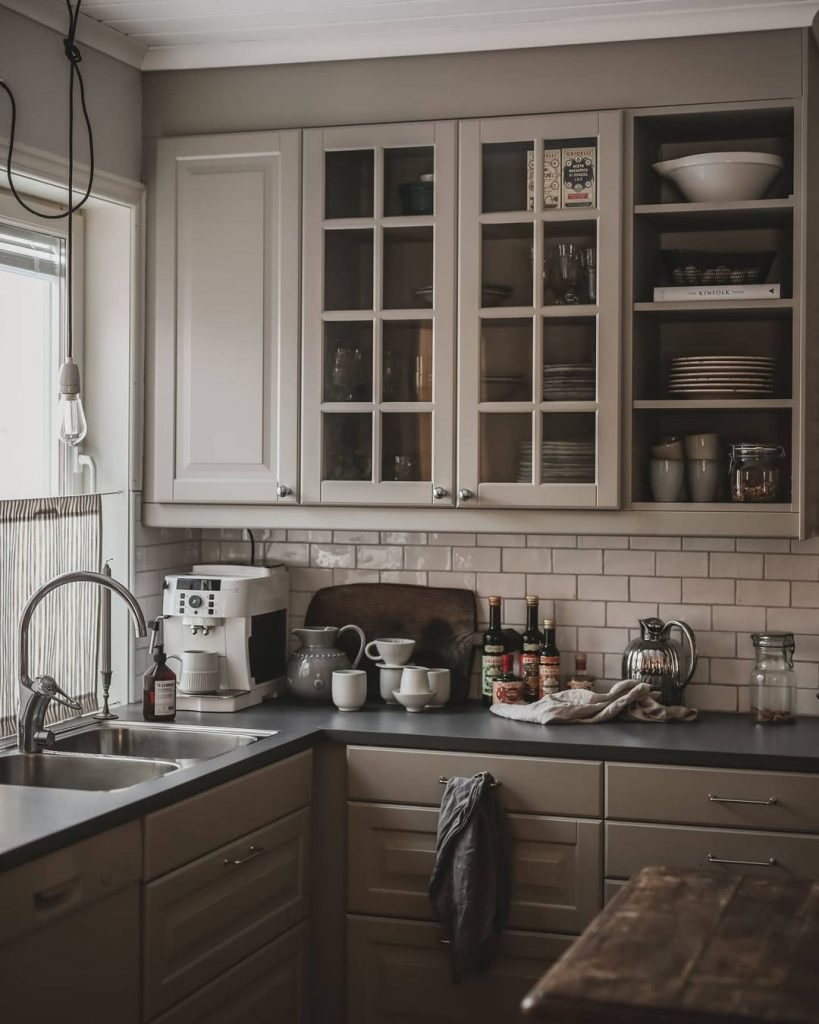 This pantry door is an original piece reconditioned and placed in a great focal point corner in the kitchen. It's a perfect match with the wallpaper and the wooden walls.
I fell in love with this cabinetry instantly when I saw it. Its patina is irresistible. Vintage pieces add extra hygge feeling to an interior.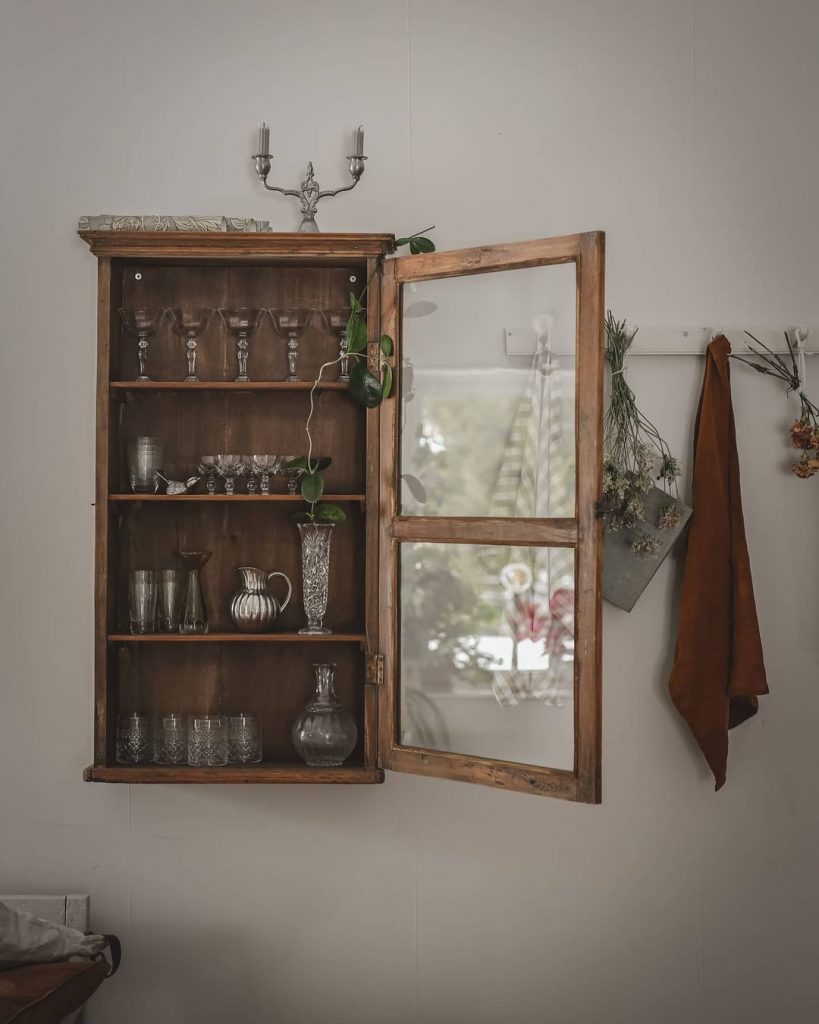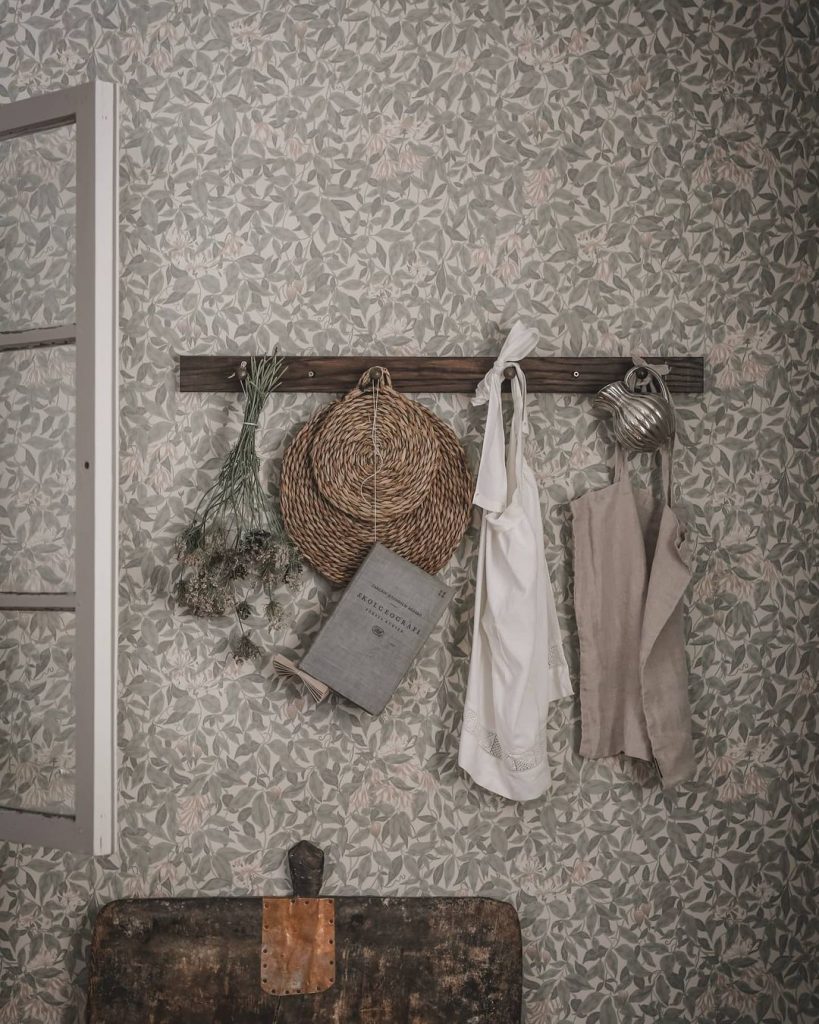 This is a Matisse pendant from Globen Lighting, recently purchased by Viktoria. It adds a delicate touch to the dining area next to the CH24 Wishbone chairs, another love of my life 😉 In my head, the concept of a chair starts and ends with this chair. Period.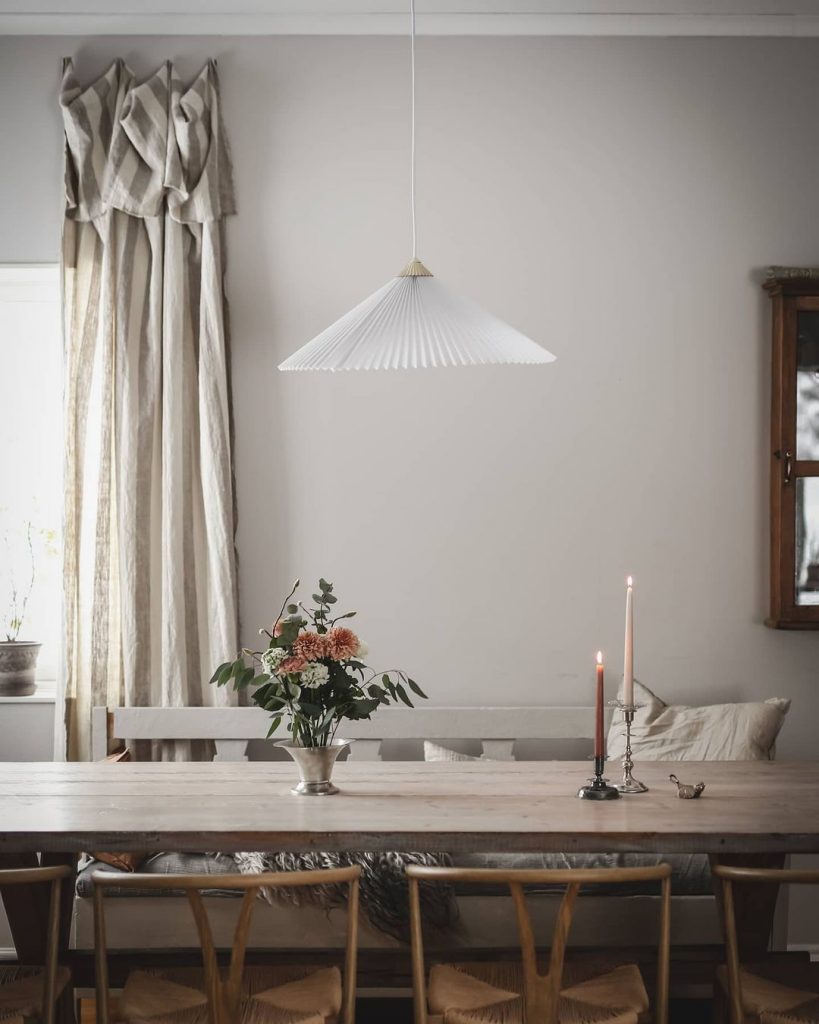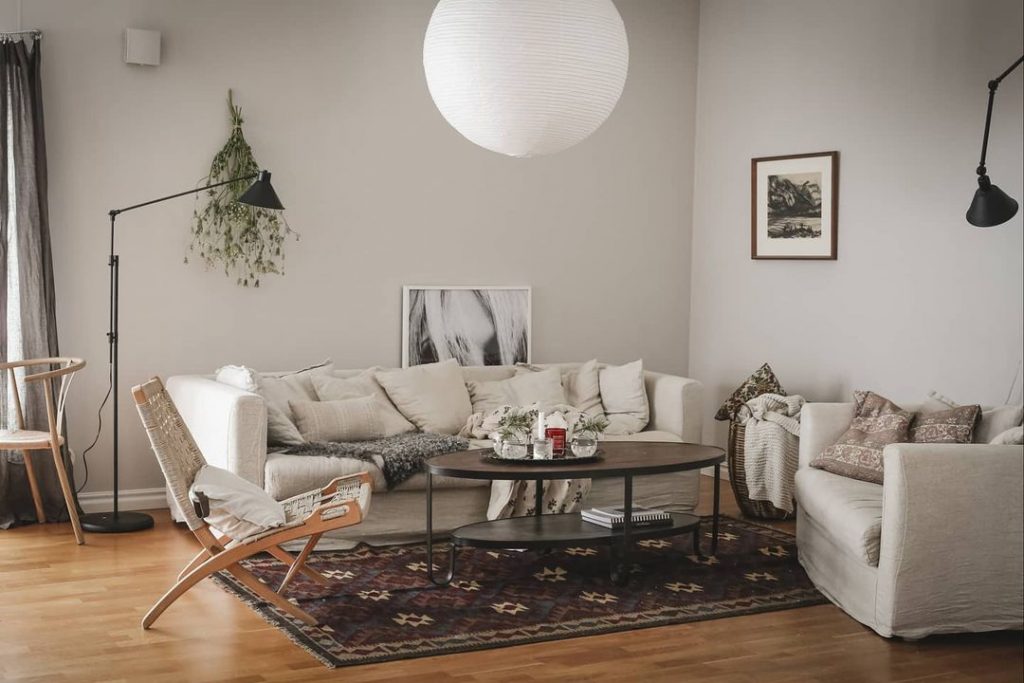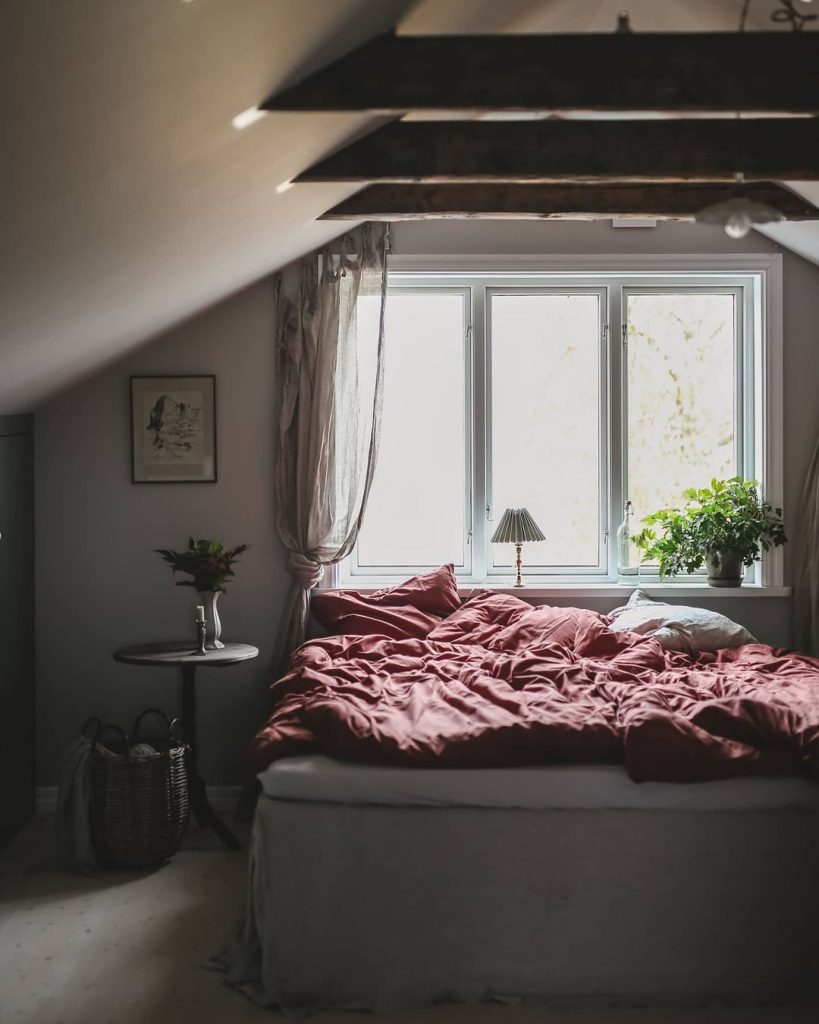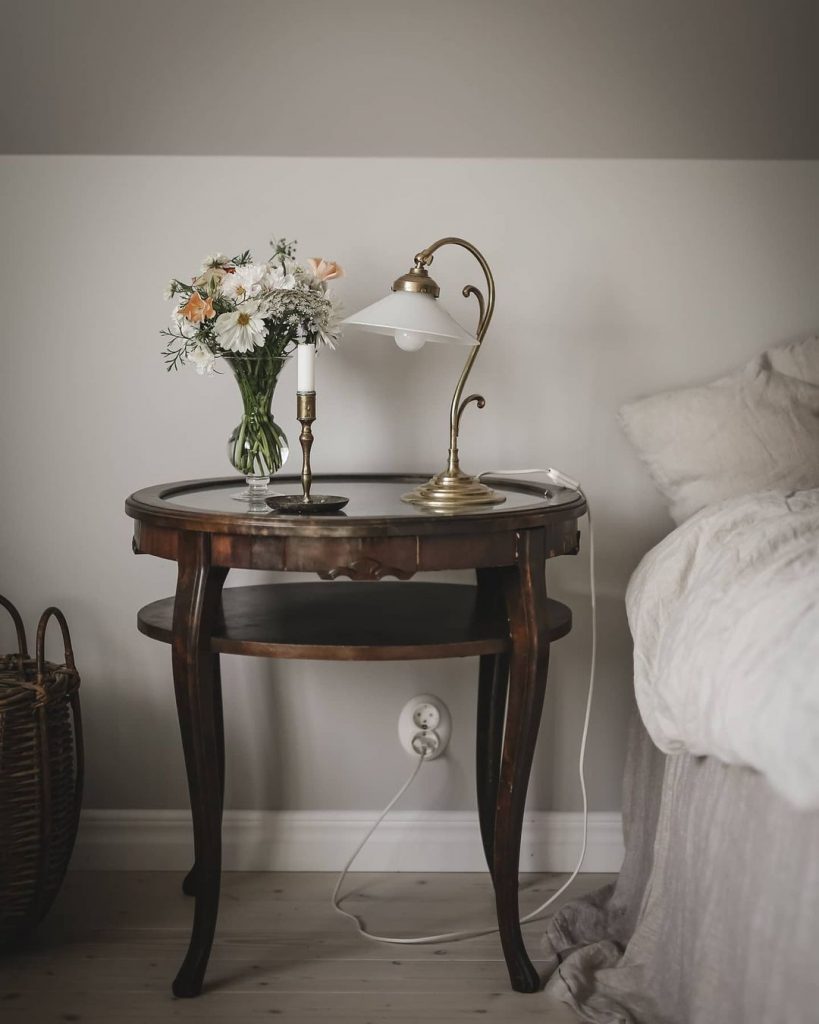 The famous Pimpernel William Morris wallpaper, present in almost every Scandi home. If you ever want to buy quality wallpaper, do it from the Wallpaperdirect. These guys are great, they have a HUGE collection of wallpapers and although they are locate in the USA, they have a great support team who answers promptly to your questions. They even send samples if needed and they are shipping world wide. We've purchased our wallpaper from the bedroom from them, and I was very pleased with their services.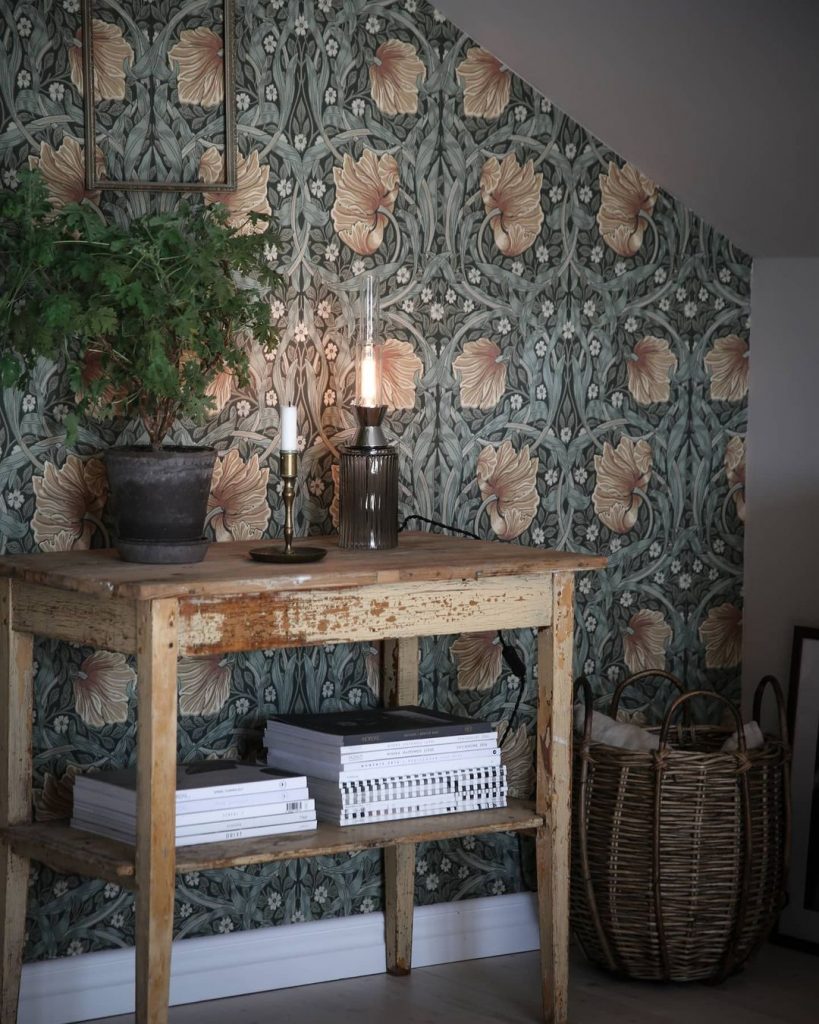 What a lovely interior, a perfect home tour that makes you cuddling up under a blanket with a hot tea and keep your eyes away from this rainy weather. Spring, where are you? I mean really, where? Where is your refreshing sunshine?
Photo credits: @viktoriaholmgren– shared with her friendly permission